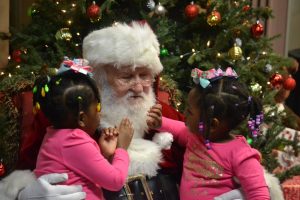 The father, a veteran, came to Christian Community Action (CCA) with his children prior to Christmas and just after his surgery.  He still had staples and sutures visible from his recent operation.  He came because despite his pain and discomfort, he wanted to provide a happy holiday for his family.
CCA will once again bring the joy of Christmas to families in our community who have fallen on difficult times. Last week, CCA hosted Christmas parties to bring holiday cheer and share the message of the birth of the Savior to families who need a boost.  Following the Christmas parties, parents received presents provided by CCA and community Santas so children will be ensured to have a gift on Christmas day.
For 44 years CCA has been here to help those families and individuals who have lost jobs, been affected by illness, tragedy, and other traumatic events. These life disruptions can be even more stressful at the holidays when families are looking forward to good times or at least a little hope. Throughout the year, CCA provides practical resources to keep families from going hungry, having their utilities shut off, or even being evicted. CCA helps families rebuild and move forward in their lives.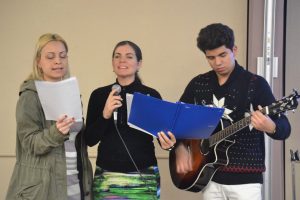 At Christmas, CCA goes even further to let these families in crisis know they are not alone and people are willing to help. CCA relies on our caring community every year to provide the financial resources, gift cards, presents, food and toys to make Christmas special for families who may not be feeling very special at the holidays.  There will be over 500 families that CCA will help at Christmas with over 1200 children in those families.  Each family that CCA works with has been screened and assessed and their specific needs are known.
CCA will need the following this Christmas:
Monetary donations to provide Christmas gifts, food for the pantry and other CCA programs
Toys and gift cards for children and teens
Christmas gifts for seniors
Holiday food donations for the pantry
Volunteers for Christmas parties, food pantry and Giving Trees at local malls
This list will be updated on CCA's website throughout the holiday season.
If you are ready to be a blessing to help struggling families this Christmas, go to the CCA website www.ccahelps.org and donate online or send a contribution to CCA, 200 S. Mill Street, Lewisville, Texas 75057.
If your business, church, or community organization would like to host a drive to raise the funds or food and presents necessary for local families in need, please contact Thelma Cantu at 972-219-4382.
If you want to be involved in volunteering during the holidays please go to www.ccahelps.org/volunteer to be added to the schedule.  For groups of 10 or more contact the volunteer manager t 972-219-4382.