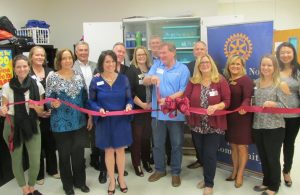 Tucked away in the middle of the second floor of Lewisville High School's main campus is an inconspicuous room that unofficially has helped students with food insecurities and other basic needs.
Thanks to the Lewisville Noon Rotary, in partnership with local charity Communities in Schools, it no longer is unofficial.
A $4,000 grant secured by the organization of area business owners and professional leaders helped solidify food pantries at both the upper class and Killough 9th and 10th grade buildings. They join the Harmon 9-10 campus which opened a food pantry a few years ago.
A ribbon cutting ceremony Nov. 15 followed an unofficial opening in October and brought a number of dignitaries to recognize the feat. They included Steve Cox, president of the Lewisville Noon Rotary Club; Angie Cox, a Rotary vice president and Lewisville Independent School District board member, Bill Collins, president of the Lewisville Chamber of Commerce; Ann Pape, chief executive officer of Communities in Schools; Chelsea Davis, the Community in Schools' LHS site coordinator; Ally Barnett, Davis' counterpart at Killough; Dr. Kevin Rogers, LISD superintendent; Lori Fickling, assistant Rotary District 5790 governor, and Jeffrey Kajs, LHS principal.
"Honestly, this was kind of the brainchild of who I call my little sis (Angie Cox) and obviously Ann Pape," said Steve Cox. "We filed for a matching grant for Rotary International with our District 5790 which was approved and then we had a nice little shopping tour at Sam's (Club) where nobody got lost or hurt to do this project."
"At Communities in Schools we always love to work with our community members to provide resources on campus to serve our kids in the best way that we possibly can," said Pape. "Part of that is having basic and emergency assistance for kids whether it's an article of clothing or they are food insecure and need to take food home on the weekends. Or if they come and haven't eaten a full meal, they aren't ready to learn.
"There are concerns of those kids who have the very basic of needs, shoes to fit their feet, clothes to wear or a safe place to go at home, Communities in Schools is there. When we look to organizations ready to say yes, Rotary is right at the top to be a part and a partner in this."
"I think this is an exciting project," said Collins. "We're proud to be directly and indirectly associated with the Rotary."
Davis and Barnett work with students daily so they know who needs what at almost any time. One of their goals is helping these students remain in school, graduate and move on to productive lives.
"My favorite part of the Rotary grant was I was able to request the kinds of items I know the students will take and eat and it won't go to waste and left sitting in my room for a year," Davis said. "I know this is going to be in demand and they took it into account."
While pantry offerings are available to any student, they focus on those identified with personal or family situations where they have the greatest need. They include homeless students, those with parents out of work, or those with basic food and nutritional shortages.
Available food ranges from grab-and-go snacks including Pop Tarts, fruit snacks, apple cider, and healthy foods to bags of groceries to take home on weekends.
"This is a junior and senior campus and most of what they get for lunch is just enough food and especially if they get the free lunch here," Davis said. "They don't have expendable cash to spend on snacks in the lunch line especially for these kids who are 18.
"They are young men and women who need to eat. Maybe they didn't get breakfast. If their parents are both working a lot of times these kids go home and nobody is cooking for them. They need to be able take some things like Easy Mac or Ramen Noodles, things they can make at home as they may not be getting dinner at home."
Davis added that while traditional food pantry items are great, students are not likely to take home a can of green beans and white rice to make for themselves. If Davis receives something she believes her students will not use, she donates it to other organizations that can.
"Somebody somewhere wants that bag of pinto beans," she said.
Davis estimates her pantry gives out about 60 snacks each week. She also hands out bags of food to students who have self-identified as needy. They find out about the program either through word of mouth, when they pass by the pantry room or from teachers notified by Davis.
And it's not always just about food that's available. There also are sleeping bags and blankets and clothing and hygiene products plus backpacks and other school supplies, all of which are donated.
"There's a decent homeless population here that doesn't look like the stereotype homeless sleeping outside," Davis said. "They are couch-surfing. They're kind of at the mercy of their friend's parents. Instead of having to ask if they can stay another week and use their food and their hygiene products they have their own food, their own clothes, and their own sleeping items. They just literally need a place to sleep."