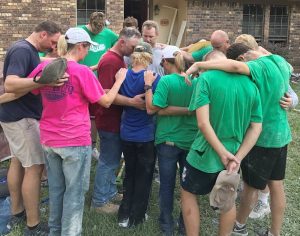 In late August, Hurricane Harvey struck the Houston area with a destructive force that took homes, businesses, schools, churches, and even people's lives.
Families at Liberty Christian School in Argyle wanted to help with the recovery effort in any way they could. The school became a collection hub as students, parents, and others from the surrounding communities contributed much-needed necessities.
Liberty's Campus Pastor Chris Searcy initially reached out to Liberty families, encouraging them to pray, give or go to Houston to serve.
"Our hearts are broken to see all that has happened in Houston," he said. "We want to live out our school's motto – the Warrior Way of pursuing service and building community – to reach out and help others in our own state."
While the school collected supplies, individual classrooms sought out ways to assist.
Preschool students made cards, and Lower School students in their Spanish class wrote letters of encouragement in Spanish to send to Spanish speakers who lost their homes.
Fourth grade girls in the Bible study, "Shine," filled bags with gifts for schoolchildren in League City, Texas.
Liberty's librarian created a book drive during the school's book fair to provide books for a school library in Orange, Texas, that lost nearly all of its books in the hurricane.
Upper School history teacher Mike Lettau and his wife heard an announcement at church about an opportunity to travel to Houston to serve. They spent four days there collaborating with another church to deliver meals to families, work hard labor in homes and assist in a distribution center, helping people gather necessities and sharing the love of Christ wherever they went.
The volunteerism of Liberty parents also made a huge impact in the effort. Ashli Wolf and a team of parents and students took many of the donations at Liberty to distribution points like West University Baptist Church in Bellaire; Texas City; Bevil Oaks, where all 600 homes in the community were completely lost; and Tivoli, a small farming community of 500 that also suffered a complete loss.
In all, her team delivered six truckloads and seven trailers to these points in Texas, with additional donations made locally to shelters that housed evacuees and, as well as animal shelters that housed evacuees' pets.
"None of this would have been possible without our Liberty family," said Mrs. Wolf. "Liberty stepped up in a big way, from donating to volunteering to delivering supplies – the Liberty community is priceless!"
She also thanked the surrounding communities around Liberty that helped tremendously, including area churches and schools that held donation drives. She noted that New York builder Rich Galvagni collected supplies and shipped them to Texas, and a storeowner and a friend in Shreveport, La. held drives and brought the supplies to Liberty.
Mrs. Wolf called this entire effort "the butterfly effect," as her children, Joseph and Ava, were the ones who initiated her involvement from seeing her take action when Hurricane Katrina hit in 2005 and in the Super Outbreak of tornadoes in April 2011. Her children saw their family take action and help other family members and friends affected by these cataclysmic storms.
"When it came to helping Hurricane Harvey victims, Liberty Christian was the nucleus, the heartbeat of this entire operation," said Mrs. Wolf. "God allowed us to use our strengths and connections to support those in need.
"There really is no other explanation that can explain how we were able to make this happen and deliver the amount of supplies and manpower that we delivered – but with God, all things are possible."
She also gives gratitude to Liberty baseball and football players, the Middle School swim team, 7th grade girls, teachers and staff who assisted with unloading donations, packing boxes, and loading trailers, as well as the Dallas Tigers Baseball Organization that provided its trailer to transport supplies.
Another parent, Coleen Baran, heard her son, Tyler, tell her last summer that he wanted to sell T-shirts for a good cause during homecoming that would serve as an alternative to buying mums. Little did she know that it would be those T-shirt sales that would help those in Houston after Hurricane Harvey.
Tyler joined forces with student Gabe Graves, whose cousin Kelly Lewis teaches Pre-AP art at Spring Branch Middle School, a Title 1 school in Houston. The more than $2,300 raised through T-shirt sales went to teachers and students in the school who lost their homes, cars, and even other family members in the storm.
Tyler, who plays football and basketball for the Warriors, in addition to leading the Spanish Club, said, "God has blessed me to be a blessing to others, and Liberty has given me many opportunities to serve  through local and international mission trips, food drives, and our mentoring program called Impact.
"I would like to see this T-shirt idea become a homecoming tradition, where students use the money that would be spent on mums to bless others."
The effort to help at Liberty comes from its foundation on Jesus Christ, who calls Christians to love and serve others in need.
Mrs. Wolf summarized, "A quote I live by and teach to my children says, 'Helping a person will not necessarily change the world, but it will change the world for that person.
"As a Christian, parent, and community member, I believe it is the small acts of kindness and compassion that can grow into a butterfly effect to reach and help many more, just like we have seen at our school."
Submitted by Vivian Nichols