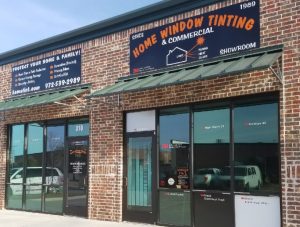 By Tim Miller, Home Window Tinting, Inc.
Why do we have windows? Well that may sound like an obvious question. Windows were made to see out and enjoy your view and/or allow some light in.
If you actually just look around, just about every house or business has their window treatments closed almost all the time.
Why do people close their blinds or shutters? Most people will answer "I need my privacy," or "I need to keep the heat and/or the sunlight out," "I don't want my room to get too hot," or "I am worried about my furniture, floors and artwork fading."
Before you purchase blinds, shutters or other window treatments I want to share with you a few things I have learned from our customers in the past. We all know that you need to have window treatments for nighttime privacy. However you don't have to cover every window in your house with a blind or shutter.
Let's start with a master bath window that faces your neighbor's house. First of all, a blind or shutter is going to cut out most of the natural light in that room and you will most likely never open it. Blinds in master baths can get mildewed from moisture in the bathroom.
Consider using a frosted film. Depending on your privacy needs. There are many choices. Our most common products are reasonably priced. They allow a great deal of light in and are virtually maintenance free and come with great warranties.
Garages are the next issue: If your garage is not on the same plane or is separated enough from the rest of the house then a frosted/decorative style film is much better than a blind or shutter.
Remember blinds or shutters collect bugs, cobwebs and dirt. They are generally never opened and once again cut out most of the natural light.
Transom or Arch windows: Don't cover these if nighttime privacy is not an issue. This is another place window films are a perfect solution. We also have daylight redirecting film available.
Some people assume they need all their blinds or shutters to have the same look. If you really take a good look around, homeowners mix colors and styles quite often. A very common example of this is shutters on the main house and blinds in the garage or a dark shutter in the study and white shutters on the other windows.
When it comes to window film the rule of thumb is this. If you plan on living in your home for two years or less, you should only film enough windows to get by. Two to four years, film enough windows to raise your quality of life. If you plan on living in your home for more than six years then strongly consider filming your entire home for four main reasons:
Energy savings. Even if you have Low-E windows we can increase the efficiency of them from 35 to 75%. Film has a 3 to 6 year return on investment.
Fade protection. Remember Low-E doesn't stand for UV (the largest cause of fading). Our films help protect everything from your window latches (plastic in most new homes), to your window treatments, floors, furniture and artwork.
Hail/storm/impact protection. Our films help hold the glass together in the case of impacts from debris, hail, golf balls etc.
Enjoy your view! Don't live in the dark. Window film provides complete daytime privacy.
Please call Home Window Tinting today for a free consultation at 972-539-2989 or visit our showroom at 650 East Highway 121, Suite 310 in Lewisville.