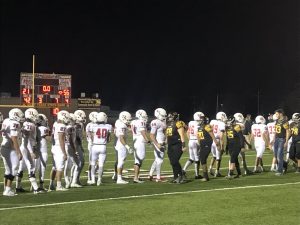 Argyle 56, Snyder 21
Argyle opened up the playoffs in style on Friday night, defeating Snyder by a score of 56-21.
The Eagles' running game was too much for the Tigers, as Argyle scored on seven rushing touchdowns, including two from Don Williams and an 83-yard breakaway from Noah Lang.
Argyle led 49-0 before Snyder scored its first points of the game.
Defensively, Brendan Dixon had a 45-yard fumble recovery for a touchdown for Argyle.
The undefeated Eagles will play Levelland (5-4) next Friday, November 24, at 7 p.m. in the area round at Clyde High School near Abilene.
Byron Nelson 28, Guyer 24
Guyer was upset in the opening round of the playoffs on Friday night, losing to Trophy Club Byron Nelson in the bi-district round.
Things got off to a good start for the Wildcats, as Kaedric Cobbs scored on two touchdown runs to give Guyer a 14-0 lead.
But Nelson came back, scoring 21 unanswered points before Cole Schroeder kicked a 27-yard field goal to cut Guyer's deficit to four points.
The Wildcats regained the lead early in the fourth quarter on a run from quarterback Luke Stillwell, but the Bobcats scored with 2:48 to play to seal the deal.
Guyer finished the season with a record of 7-4.
Trinity Christian 12, Coram Deo 0
The season came to an end for Coram Deo on Friday night as the Lions lost to Trinity Christian in the bi-district round.
Coram Deo struggled to get anything going offensively in the game or capitalize on Trinity Christian mistakes.
Trailing 6-0 early in the second quarter, Jarren Heitschmidt intercepted a Trinity Christian pass on the Eagles' 24-line.
Coram Deo could not put any points on the board, however, and Trinity Christian would score again late in the third quarter to make it 12-0.
The Lions wrapped up the season with an 8-3 overall record.
Bishop Dunne 36, Liberty Christian 0
Liberty Christian could not get on the scoreboard Saturday afternoon, falling to Bishop Dunne in the bi-district round of the playoffs.
Nate Hayden threw for 121 yards in the game for the Warriors, and Kade Johnson had two catches for 43 yards.
Liberty Christian finished the season with a record of 6-5.