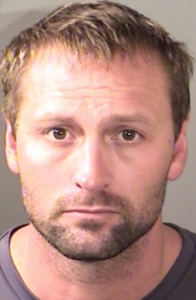 Police caught a Lewisville man in Flower Mound last week before he could carry out his plan to publicly kill the man he believed ruined his marriage, according to police.
Flower Mound police were called to the 500 block of Flower Mound Road around 7 a.m. on Nov. 7 about a suspicious man with two rifles in a shopping center parking lot. The witness told police the man was wearing combat fatigues while sitting in a black SUV, and he was asking questions about an employee of a business in the shopping center, according to a Flower Mound Police Department news release.
Police did not see the SUV initially, but around 7:40 a.m., they found the SUV and the man matching the witness' description about three blocks away, parked behind a church. Two long guns were in the front seat, the news release said.
Police identified the suspect as 34-year-old Robert Hulsey of Lewisville. At first, Hulsey denied any unlawful intentions, but police continued to investigate, according to the FMPD probable cause affidavit. They found that the man Hulsey was asking about at the shopping center is the same man that Hulsey believes caused his marital separation.
Hulsey had also sent text messages early that morning, threatening the man's life. When asked if he planned to kill that man, Hulsey "nodded in the affirmative and began to cry," the arrest affidavit said. Hulsey planned to carry out the murder when the business opened.
Police recovered lots of weapons from Hulsey's vehicle, including three long rifles, a shotgun, hundreds of rounds of ammunition, three folding knives and two daggers, according to the news release. Police also found a pair of handcuffs, three handcuff keys and a suitcase with clothes.
FMPD Captain Wess Griffin said Wednesday that is not known why Hulsey had so many weapons and so much ammunition in his SUV if he only intended to shoot one person, but the investigation is ongoing.
"I can say that what is clear to us is that the reporting person who called in on Mr. Hulsey certainly averted a tragedy for at least one family, and potentially for many more with the stockpile of weapons the suspect possessed," Griffin said.
Hulsey was charged with attempted murder, a second-degree felony, and booked into Denton County Jail on $175,000 bond last week. He was released on bond the next day, jail records show.