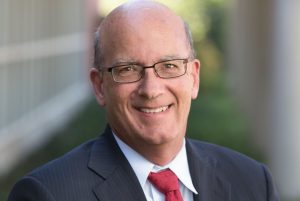 Flower Mound Town Council member Bryan Webb on Tuesday announced his candidacy for Denton County Commissioner Precinct 4.
Current Commissioner Andy Eads is expected to announce that he will run for the Denton County Judge position being vacated by Mary Horn.
Webb will be running as a Democrat in an all-red county.
"For too long, Denton County elections have been decided in the primary.  I believe it is time for the voters to have a real choice in November," stated Webb in a press release.
Contrasting his success in working with other council members, Webb recalled the period after the May 2015 election when he said that was not possible in Flower Mound.
"Having people in elected positions who are more worried about their next political step than serving the residents who elected them creates distrust and impedes the good work of others," he stated. "Denton County voters need to learn from that experience"
Webb pointed to his two decades long period of service.  In 1995 then Lewisville Mayor, now Commissioner Bobbie Mitchell, appointed him to his first board position. He continued serving with both Commissioners Mitchell and Eads on the FM TIRZ board to fund infrastructure improvements and new facilities. Webb was first elected  to Flower Mound Town Council in 2012.
Webb says experience matters but getting things accomplished matters more.
"Voters should have a choice of electing someone with a proven history of service and accomplishment," he said, citing Lakeside DFW, Marriott Courtyard at the Riverwalk, Lewisville Old Town Redevelopment, DCTA, retaining Stryker's operation and new facility, many new Flower Mound restaurants, a new Flower Mound Town Hall and library expansion, among others.
"This list of accomplishments proves that it is possible to balance safety, economic development, and exceptional quality of life and to be fiscally responsible.  After all, USA Today named Flower Mound, in southern Denton County, as the best place to live in Texas and the 13th best place in the entire USA."
Webb said Denton County residents have come to expect and they deserve representation that holds residents interest first.  They demand fiscal responsibility and appreciate that Denton County has the fourth lowest property tax rate of Texas Counties.
"My proven balanced approach to economic development, high quality services and public safety within the constraints of responsible budgeting is what Denton County needs to continue to move forward"
For more information: Facebook Bryan Webb Pct4 or [email protected]