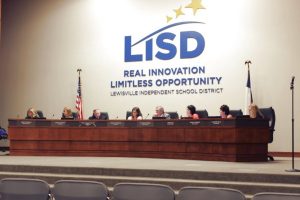 The Lewisville Independent School District wants your input as it considers starting the 2018-19 school year two weeks earlier than usual.
The district is asking residents to take a survey about their preferred schedule among four options.
The first two options are similar to each other: One would start on Aug. 13, and the other would start Aug. 15. Both would have fall finals take place before Winter Break and the school year would end before Memorial Day.
The other two options are also similar to each other and the district's schedule in the current school year. They would both start the school year on Aug. 27, fall finals would take place after Winter Break and the last day of the school year would be June 6.
The winter break and spring break schedules would stay the same in all the options.
LISD is a "District of Innovation," enabling it to choose its start date, according to the district. The 10 largest districts in the state will dismiss on or before June 1, 2018, and other districts are proposing and approving earlier start dates for the 2018-2019 school year, prompting LISD to consider starting early.
Click here to take the survey, the results of which the LISD Board of Trustees will consider, but will not be the determining factor in which calendar is selected.