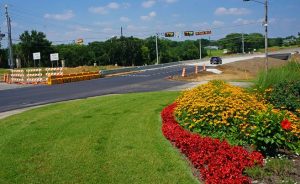 The town of Flower Mound will hold a Public Input Meeting this month to discuss TxDOT's project to landscape and irrigate a section of FM 1171, according to a town news release.
In the meeting, town staff and the design consultant, Mesa Design Group, will answer questions about and discuss the design of Phase 1 of the TxDOT 1171 Green Ribbon Project, which includes the median landscaping and irrigation for a 3.4-mile stretch of FM 1171 west from Shiloh Road. This stretch of the thoroughfare was recently widened from a two-lane highway to a six-lane divided highway.
The meeting is scheduled for Nov. 28 at 7 p.m. at the Flower Mound Public Library, 3030 Broadmoor Lane. If you have questions about the meeting, contact Kari Biddix at 972-874-6278.