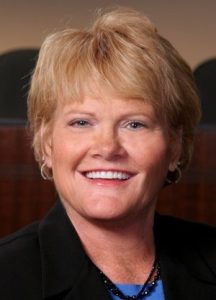 November marks the season to be thankful. Everywhere you go there are pumpkin flavored treats and drinks, the weather is cooling and we're looking forward to time spent with family and friends. We have much to be thankful for in Highland Village.
We have called a bond election to address street improvements and parks and recreation projects. If you did not vote during early voting, I encourage you to vote on Tuesday, November 7. There are two propositions on the ballot.
The first proposition, totaling $2.86 million, is for the full reconstruction of streets that have reached the end of their life cycle.
The second proposition, totaling $4.29 million, is for park and recreation improvements. Specifically, several improvements to the City's only community park, Unity Park.
The play area, Kids Kastle, is at the end of its useful life and in need of replacement with new recycled plastic materials that will provide increased safety and less maintenance. The ponds at Unity Park require dredging to remove the accumulated silt and improvements to address drainage considerations. A drainage study conducted in 2017 recommended making improvements to accommodate a 50-year flood which will also benefit the surrounding area. A section of the park will be redeveloped to add an additional softball field to complement the existing baseball fields. The Unity Park improvements total $2.54 million.
Other park projects included are the extension of the Brazos Park parking lot, in the amount of $353,000. Several years ago a parking lot was built at this park to alleviate parking on adjacent streets. Popularity of the fields has prompted the need to increase the size of the parking area.
The development of Sunset Park, which is classified as a mini park and serves local residents as a neighborhood park site and provides water access to Lewisville Lake, comes in at an estimated cost of $162,700. The development will address erosion issues and safety concerns along with enhanced roadway completion to facilitate emergency vehicle access and turn around capabilities. Public input was solicited on the design for the park in the spring of 2017 and was approved by Council.
Resurfacing the walking track at Victoria Park to remove cracked and uneven pavement which can be a tripping hazard is included at an estimated cost of $275,000.
Finally, construction of the trail segment on Highland Village Road from the Municipal Complex to Sellmeyer Lane is included at an estimated cost of $922,300. A large number of residents adjacent to this section have no access to the city trail system to connect to Lions Club Park, Lakeside Community Park, and Doubletree Ranch Park. This presents a potential safety issue as people walk the two-lane Highland Village Road to access these amenities.
We have some very special events coming up. The Salute Our Veterans Luncheon will take place on November 10 and honors the men and women who have fought to keep our country safe and free. The Highland Village Business Association takes sponsorships from the community to veterans and a guest can attend at no charge. Congressman Burgess awards Congressional Commendation to selected local veterans at this event. If you are a veteran, I invite you to attend. Just RSVP to [email protected].
There is fun for the family this season as well. We'll bring in the holiday season with Our Village Glows on Saturday, November 18 at The Shops at Highland Village, beginning at 5 p.m. The City partners with the Highland Village Women's Club and The Shops at Highland Village to bring this festive event to the community.
Once again this year the 60-foot Christmas tree will feature a themed "Let it Glow, Holiday Light Show Spectacular" which includes 245,300 LED tree lights synchronized to holiday music. This is a great family event with musical entertainment, horse-drawn carriage rides, face-painting, cookie decorating, ornament making and pictures with Santa. I hope to see you all there as we kick of the holiday season in Highland Village.
We have the annual Parade of Lights holiday lighting contest again this year. It is so much fun to see the creativity of our residents as they decorate their homes for the holiday season. The Fire Department will once again escort Santa through our neighborhoods, be sure to check the city website for the date he will be on your street. And mark your calendar to visit Santa at the Highland Village Fire Station on Saturday, December 2 from 1 p.m. to 4 p.m.
While we are enjoying the month of thankfulness, the local business owners are gearing up for the holiday season. This is the busiest time for our retailers and restaurants and it is the perfect time for you to see what we have to offer in Highland Village. You know we've long said we have it all in Highland Village and I truly believe we do. I hope you'll always look to a Highland Village business first as you prepare for holiday gatherings and gift giving. Keeping our sales tax dollars at home not only benefits the business owners who have chosen to set up shop in Highland Village, it also benefits our local economy.
I am thankful for each of you. I see our community pull together to help one another, generously give to those in need and share their time and talents.  I am thankful to serve this community and its residents as Mayor. Highland Village is a wonderful place to live and serve. I wish each of you a happy Thanksgiving and memorable times with family and friends. Remember to start each day with a grateful heart.