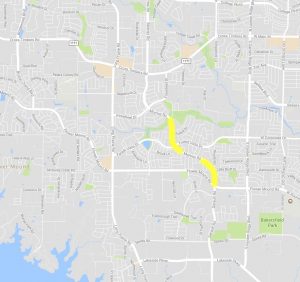 Flower Mound Town Council members on Monday night got the ball rolling on widening a portion of Morriss Road from four to six lanes.
The council voted 4-2 for a design services agreement in the amount of $80,965 to Halff Associates.  Jason Webb and Kevin Bryant cast nay votes.
The widening project provides for an additional lane to be added in the median in both directions from FM 3040 to Garden Road. No right-of-way is needed for the project.
Council members also unanimously approved an agreement with Kimley-Horn and Associates in the amount of $73,000 to design a water line on Morriss from Forest Vista to Garden Road.
Town staff told council members that a water line and around half the concrete pavement panels need to be replaced, and combining the repairs with the widening project will save the town at least $700,000.
"Tonight the council voted to update the engineering plans completed nearly 10 years ago to address capacity constraints on Morriss Rd. For as long as most of us have lived here, Morriss was intended to cap out as a six lane road," Bryan Webb posted on Facebook after the meeting. 
"Today, traffic studies show it fails SMART growth at several locations. Our staff stated tonight the only way for Morriss to pass SMART Growth is to add capacity. This means building two additional lanes. The engineering plans will update previous plans to reflect changes and improvements that have occurred since 2009. 
"We requested staff to bring the updated plans to council for further discussion before they are sent out for bid.
Residents will have an opportunity to look at the plans, ask questions, make suggestions and voice opinions before bids are requested and before funds are authorized."
Once the design is completed, the road project is expected to go out for bid in March 2018.