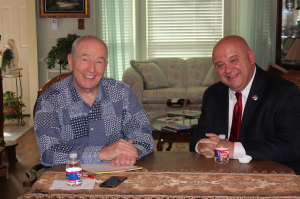 With numerous political campaigns underway in North Texas, ranging from state-level positions to county and local opportunities to serve in public office, there will also be some judgeships on the primary ballot in March 2018. One of the candidates is conservative Republican Sean Kilgore, a native Texan who was born in Houston and was raised in Galveston. He moved to North Texas in 2006. Mr. Kilgore is running for the nomination to Judge in Denton County Criminal Court #2. He is married to Tiffani Lohmann Kilgore, and has one son, William, with another new addition to the family due to arrive in May, 2018. Sean attended Hampden-Sydney College for his undergraduate studies, and received his law degree from Texas Tech University.
Mr. Kilgore began his career as an attorney in San Antonio, Texas working primarily in the area of criminal defense, while also handling simple civil disputes. In May of 2006, he joined the Denton County Criminal District Attorney's Office. Sean started at the DA's office working in the Family Violence division, prosecuting mainly Assault Family Violence cases. He was then promoted to Chief Prosecutor of County Criminal Court #2, a position he held for just short of two years. During the interview, Sean talks about the role of a criminal court judge and why he's running for the position.
He also served as Chief Prosecutor of County Criminal Courts #3 and #4. In all the County Criminal Courts of Denton, Sean handled all types of Misdemeanor cases, including DWI, drug possession and general assault cases. Mr. Kilgore also prosecuted felony cases including felony drug possession and felony intoxication crimes. While at the District Attorney's office, he participated in over 100 jury trials and argued countless motions to both District and County Judges.
In March of 2011, Sean was offered a position at Kuzmich Law Firm. Now in private practice, Sean handles criminal defense matters, and other civil disputes. In 2012, Mr. Kilgore was instrumental in helping to create the Denton County Veteran's Treatment Court and is currently one of two court-appointed lawyers for that court, having served on the court since its inception. Sean considers the work he does in the court to be his greatest professional achievement.
Mr. Kilgore is a member of the State Bar of Texas and is admitted to practice before Texas State Courts. He's also a member of the Texas Criminal Defense Lawyers Association, as well as the Denton County Criminal Defense Lawyers Association. He is also currently a member of National Association of Drug Court Professionals, and has presented at both state-wide and national conferences in the areas of Veteran's Courts, drug treatment courts, and cooperation between drug treatment providers and the legal community. He is a former member of the Texas District and County Attorney's Association.
For more info please click on: http://seankilgoreforjudge.com.
Bob Weir is a former NYPD officer, long-time Flower Mound resident and former local newspaper editor.