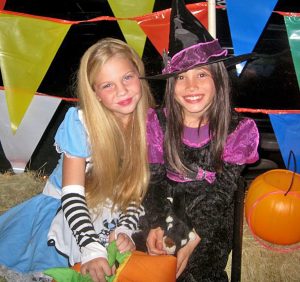 Trick-or-treaters may be getting a break from Mother Nature on Halloween night.
It's no sure thing, but as of late Tuesday morning, the National Weather Service forecast indicates that rain will move into DFW around 3 p.m. and move out of southern Denton County around 6 p.m.
While the skies may be clear, the temperatures are expected to plunge to the low 50s and upper 40s by 6 p.m., according to the National Weather Service forecast.
Local authorities are urging trick-or-treaters and drivers to be especially careful Tuesday night. According to Safe Kids Worldwide, children are more than twice as likely to be fatally struck by a vehicle on Halloween than any other day of the year.
Safe Kids Worldwide has the following safety tips for trick-or-treaters:
Cross the street at corners and use traffic signals and crosswalks
Look left, right and left again when crossing
Walk, don't run
Put electronic devices down
Children under the age of 12 should not be alone at night without adult supervision
Make costumes as bright or reflective as possible
Safe Kids Worldwide has the following safety tips for drivers:
Slow down and be especially alert in residential areas
 Take extra time to look for kids at intersections, on medians and oncurbs
Enter and exit driveways and alleys slowly and carefully
Eliminate all distractions
Turn your headlights on earlier in the day