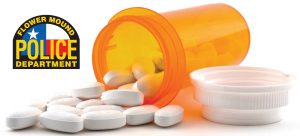 Southern Denton County residents can dispose of their expired or unused medications Saturday for National Prescription Drug Take-Back Day.
The United States Drug Enforcement Administration created National Take-Back Day to address "a crucial public safety and public health issue," according to its website. More than 6 million Americans abused controlled prescription drugs in 2015, according to the National Survey on Drug Use and Health, and most of the abused drugs were obtained from family and friends, usually from the home medicine cabinet. So to help people safely dispose of potentially dangerous controlled substances, the DEA launched the semi-annual National Prescription Drug Take-Back Day in 2010.
From 10 a.m. to 2 p.m. Saturday, you can bring your expired or unused prescription drugs to collection sites at Marcus High School and Flower Mound High School. For a list of other collection sites outside the Cross Timbers area, click here.