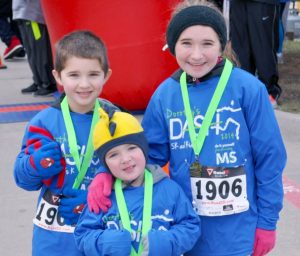 The town of Flower Mound is preparing for the 14th annual Dorothy's Dash, and early registration ends Saturday.
On Nov. 16, 2004, former town of Flower Mound employee Dorothy Walkup lost her battle with Multiple Sclerosis, according to the town.
"Dorothy will be missed but not forgotten as a friend, mentor, and shoulder to lean on to all who had the good fortune of knowing her," said a town news release. "Her strength and courage were never more evident than during her seven-year fight against MS. The town of Flower Mound is sponsoring Dorothy's Dash to honor her memory, share her example with others who may suffer this terrible disease, and to raise funds to combat Multiple Sclerosis."
Dorothy's Dash is scheduled for Nov. 11 at Flower Mound High School, 3411 Peters Colony. Early registration for the Kid's K and the 5K ends Saturday. After Saturday, the registration fee goes up.
After the race, participants can enjoy music, refreshments and awards.
Click here to register for the races and for more information about the event.