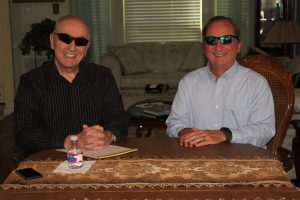 For more than 40 years Christian Community Action (CCA) has been healing, feeding and educating families throughout Denton, Collin, Dallas, Tarrant and Wise Counties. What started as a Bible study group of seven people in 1973 has grown into an organization of over 150 staff members and more than 2500 volunteers. Headquartered in Lewisville (200 S. Mill St.), CCA is one of the largest private non-profits in North Texas, providing more than 10,000 individual services each year.
Through careful case-management, CCA's holistic approach from rescue to transition helps families in need achieve self-sufficiency by offering a "hand-up" instead of a hand-out. During the video interview below, Chasz Parker, CEO and President of CCA, talks about the goals of the organization and an exciting upcoming event that will help strengthen those goals. (Mr. Parker was having some eye problems and had to wear sunglasses, so, to make him feel more comfortable I wore shades too.)
Their mission statement reads: "In the name of Jesus Christ, Christian Community Action ministers to the poor by providing comprehensive services that alleviate suffering, bring hope and change lives." Their statement of faith reads: "We believe the Bible to be the inspired, infallible, inerrant and authoritative word of God. We believe in one personal, transcendent and holy God, the creator of all, and externally existing as three persons: Father, Son and Holy Spirit. We believe that Jesus Christ, though fully God became a man and that He was born of a virgin, lived a sinless life, and provide the atonement of our sins by His death on the cross.
"We believe in His bodily resurrection, His ascension into Heaven, and His priestly intercession for His people. We believe that man was created by God in the image of God, that man sinned and thereby not only incurred physical death, but also spiritual death, which is separation from God. We believe that Jesus Christ is the only way for this separation from God to be restored. It is by his blood that the price of our sin was paid in full. We believe that God, in his time and way, will bring the world to its appropriate end. According to his promise, Jesus Christ will return personally and visibly in glory to the earth." For more info: www.ccahelps.org.
Bob Weir is a former NYPD officer, long-time Flower Mound resident and former local newspaper editor.