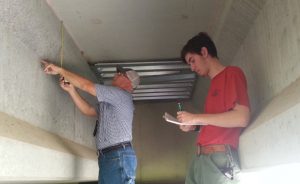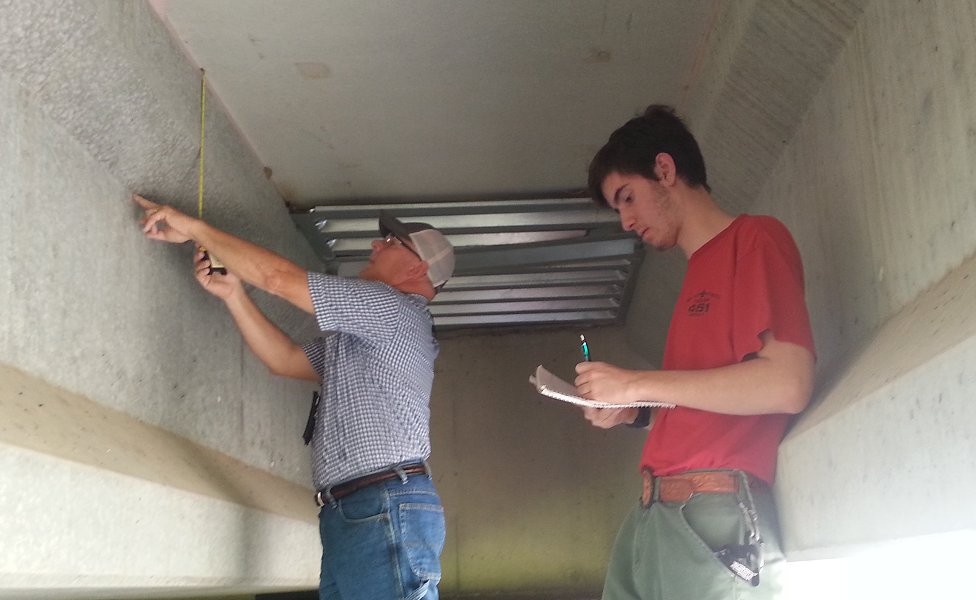 Thanks to the Eagle Scout project created by Stephen Lampe of Boy Scout Troop 451, Flower Mound has a Bat Habitat near the town's Water Plant at 1101 Duncan Lane.
In his presentation to Town Manager Jimmy Stathatos, who approved the construction and installation of the project, Lampe pointed out that: "Bats consume one-third to one-half of their body weight in insects, including mosquitoes, every night."
A junior at Flower Mound High School, Lampe's concept grew from one bat house at a small pond near his house at W. Windsor Dr. and Amy Lane. At first he pondered adding another bat house in Spring Lake Park on Windmill Lane near the Bridlewood Golf Club.  However, the scope of his project grew with his knowledge about its significance.
"My dad and I had seen bats in that area ever since I was a young boy playing baseball at Bakersfield Park" Lampe said. "Knowing that these particular bats are migratory– and that the Austin area has had great success in providing a habitat under the Congress Avenue Bridge– it seemed like a natural extension to provide the bats a local habitat; which would, in turn, help with natural insect and mosquito control."
More research and understanding the impact of the natural insect control on the environment led Lampe to consider the final iteration of his project.  The project grew from a bat house accommodating about 30- to 50-bats, to double that amount; and, then to the final product – virtual bat condos, able to accommodate hundreds of Mexican free-tailed bats, located in an area uninhabited by humans and currently suspected to support such a colony of bats.
Assistant Director Doug Stevens at the Town of Flower Mound Service Center at Spinks and Duncan, was contacted regarding the logistics of the project and a preliminary informational meeting was scheduled.
Lampe came to the meeting with his mock-up of what the Bat Habitats would look like, while Stevens came with blueprint copies of the bridge; including specs for the bridge spans.
"Stephen was obviously well-prepared and had thoughtful answers for all of my questions," said Stevens.
After a fruitful exchange of ideas and information, Stevens gave Lampe a tour of the Flower Mound Service Center, after which they went to the proposed site location, under the westbound Spinks Road Bridge, just east of Garden Ridge Drive. More details were discussed, including personnel and equipment entrance and egress, as well as specific proposed structure location.
Raising Cane's restaurant, next to Lewisville High School, agreed to host a fundraiser for Lampe to be able to raise money for the materials needed for the project.
Cane's helped several Scouts in Troop 451, not only with a percentage of proceeds from purchases, but also provided the use of its parking lot and water hose for the Scouts to host car washes.
Through fundraising proceeds, individual donations and contributions by out-of-state relatives who wanted to participate in his project, Lampe was able to raise enough money to cover the expenses of his project.
Anthony Giwoyna, Community Relations Director at Home Depot in Flower Mound, was enthusiastically supportive of Stephen's project.
"We are always on the lookout for ways to support our local communities and this is actually right down the road from us," he said.  "We have assisted with other Eagle Scout projects as well, but this looked like a really unique undertaking."
A Home Depot associate was assigned to Stephen and helped oversee the gathering of all the necessary construction materials.
Assembly was in three phases: acquisition of materials; material preparation; and, actual construction.
After the materials were procured, preparations of the materials began. It involved applying a protective coating to the surfaces, insuring defense against natural elements, including the inhabitants themselves.
"With placement beneath the bridge, the structures are not exposed to sun, wind and rain, but needed to be protected from high nitrogen bat guano," explained Lampe.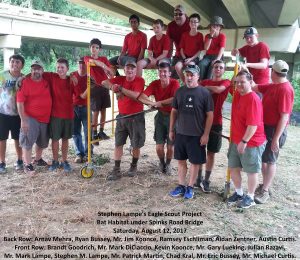 The structures are crafted from two sheets of plywood, cut on the sides to match the contour of the support beams running lengthwise under the bridge. The interior is separated by 2-inch by 4-inch studs and has hardware cloth (1/2-inch wire mesh) on both interior walls, suitable for the bats to grab and hang from while they are sleeping.
Two separate workdays were well-attended by fellow scouts to assist Lampe with the material preparation and construction.
"Part of the Eagle Project is to develop leadership skills, and supervise work crews," said Lampe. "It has been a real learning experience to be responsible for making sure all the necessary materials, tools and equipment are there; and, then delegating the work to the volunteers who show up."
On the Friday morning, prior to the scheduled Saturday morning installation date, it was discovered that the contact for the company contacted to confirm delivery times and dates, was no longer employed by the company; which had no knowledge of the agreement.  Through conversations, the original company realized that not only was it unable to provide a scissor-lift at the scheduled time, but, due to the location site, that equipment would not be suitable for the job.
That eleventh-hour crisis was answered by Chris Turney, the branch manager of Project Support for Sunstate Equipment Co. in Carrollton. He stepped up to answer the call.
Lampe optimistically remembered a cliché from his National Youth Leadership Training courses he had staffed: "Problem solving is what happens when your original plans no longer work."
Turney was contacted about the possibility of using scaffolding to provide access to the bridge spans.  Fortunately, a couple of sections were still available and with a "wink and a handshake," he arranged for the scaffolding to be used as a "demo" for the weekend.  That also really helped the budget.
Transportation logistics were arranged, thanks to Assistant Scoutmaster Mark DiCiaccio. Return accommodations for the scaffolding were provided by Assistant Scoutmaster Gary Lueking.
On the morning of Saturday, Aug. 12, ten scouts and seven scouters gathered at the Flower Mound Service Center and made the short hike to the overpass, where the scaffolding and final product awaited installation.  With all the help, installation took about two-hours.
If the habitats are adopted, Lampe foresees another Eagle Scout project; the construction of an observation platform along the sidewalk connecting Bakersfield Park to the intersection of Spinks and Garden Ridge.
"Typically, all the bats leave the roost at dusk to forage for dinner and then separately return later when they are full," he said.  "The observation platform would be about 100-yards away and ought to have a railing and a seating area."
Unlike "The Field of Dreams," there is no guarantee that, "if you build it, they will come."
"Bats are like birds; they will roost wherever they want," noted Lampe. "We are hopeful that they will adopt the habitats, but there is no bait or anything else we are aware of that will attract them to the dwellings.  We have provided a habitat that suits their needs and have put it in a location with wide open spaces, a source of water and, most importantly to us, food."
It is a little late in the year to expect the bats to adopt this location this year, but Lampe is hopeful the bats will discover their new dwelling in time for the spring mating season.
– Submitted by Mark Lampe