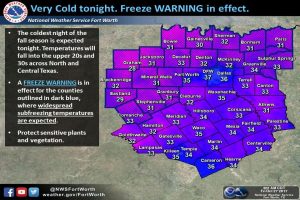 Temperatures late Friday night into Saturday morning are expected to fall into the low 30s across Denton County in the wake of a strong cold front.
Be sure to protect sensitive plants and vegetation from the freezing temperatures. Patchy frost will also be possible.
High temperatures will hover in the mid 50's on Friday with high winds, rebounding to around 60 on Saturday.
Check the latest forecast here.