On Monday, the P&Z commissioners previewed a presentation for a rezoning request for The Point, a 34.5-acres mixed-use development, south of Home Depot on the eastern side of FM 2499, south of Lakeside Parkway and west of Silveron Boulevard.
The project includes: Class A office space; restaurants; a park with a natural pond and trails; The Green open space; and, 577 apartments. It will also feature a Hilton Tru Hotel, the most successful mid-scale hotel brand capturing two-thirds of the market since it was launched in the spring of 2016.
Leading the team presentation was Kendra Stephenson, former Town Council member and principal of Portmanteau Consulting, representing Direct Development whose Co-founder and Managing Principal David Watson and Chris Hipps, vice president of Development and Leasing, were in attendance.
Direct Development's local projects include Robertson's Creek, Cross Timbers Village and Highland Court in Flower Mound.
In her presentation, Stephenson spotlighted The Point's fulfillment of the town's recent guidelines for a Class A office development: high-quality office buildings focused along FM 2499; limited large parking areas/fields along FM 2499; and, designs that incorporate a walkable area with open-spaces, gathering spots, plus linkage to environmental amenities.
She pointed out that the biggest obstacle for any Class A office facilities is the employee hiring pool; the number of professionals available to fill the mid- to upper-management positions. That means developing the living accommodations which attracts that employment pool; and, it isn't suburbia.
"The age demographic tends to be 25- to 40-year-old professionals, with an average income of $70- to $94,000-per-year," said Stephenson. "They want walkability, bike trails and high-quality rental homes [apartments] and smaller, no-maintenance, but upscale, homes to buy."
The Point project features two Class A office buildings on FM 2499: the northern building has 20,000-square-feet, able to expand to double that size, which will connect to a potential restaurant and The Green open-space; and, the larger southern building with 50,000-square-feet, also able to double that size, which will connect to a patio and The Point Park with its pond open area.
"We've already had a couple of [real estate leasing] brokers contact us," said Stephenson.
The office buildings, however, are the easy part; it's the surrounding area that's tricky to get right. For that reason, Direct Development is partnering with Dallas-based real estate icon Trammell Crow Residential (TCR), represented at the meeting by Megan Smith, vice president of Development.
Among TCR's successful high-profile, Class A office developments in North Texas are: Cypress Waters in Dallas; Alexan Center in the Urban Center in Las Colinas; Alexan Central in CityLine in Richardson; and, ClearFork in Fort Worth.
"You can't just build an office building or office park," said Smith. "It needs to be an area that mimics an urban setting– the ability to ride a bike or walk to shopping, schools, dining or entertainment within 10-minutes."
TRC's developments are tailored to utilize environmental considerations for the non-buildable areas. She showed two adaptations– a large dog park and a sand volleyball court amenities.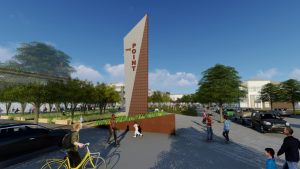 The TRC housing mix will feature live-work flexible rental units with first-floor commercial specifications, which begin as residential units, but can convert to commercial/retail use when the population reaches a level to support street-level business, such as a dry cleaner, nail salon, a Baskin Robbins or an insurance or similar office.
Additional options could be: carriage houses (Granny-flats) with parking spaces below to create a townhouse feeling; high-quality multi-family units with internal corridors for upper-levels, ground-floor street access and a private stoop or patio.
"The ability to be able to walk out of your unit, walk to your job, walk to a restaurant and walk to an open green space … is so important," said Smith.
Stephenson pointed out that The Point development's connectivity to Lakeside DFW is part of its walkability.
"The Point is a key link going north-to-south in walkability from Lakeside DFW to Gerault Road," she said. "We want to enhance Lakeside DFW retail."
When Commissioner Brad Ruthrauff questioned how the town would be guaranteed that residential units are not the first buildings built, Commissioner Dave Johnson was quick to answer.
"At some point, we– as commissioners– and members in the town need to have confidence that these people are professional and know what they're doing," he said.
It was also pointed out by Stephenson that the wording of the Planned Development (PD) and Developer Agreement (DA) phasing will guarantee the staging of the development construction.
The first component will be the green space, the pedestrian features, the first 350-multi-family units; then the hotel must be complete and open before any additional residential units will be built. She added that some sewer infrastructure improvement worth $500,000 at the southern section is being done initially.
This Monday workshop was the third Flower Mound leaders have attended within one month, all of which have addressed the 250-acres of undeveloped land remaining in the Lakeside Business District (LBD) original 1,500-acres in the southern part of town.
Flower Mound Senior Planner Richard Brown gave a short historic review [see below] of the Master Plan and zoning for the LBD, prior to outlining council's recent guidelines for LBD projects this year.
The official request for re-zoning The Point will be on the Nov. 13 Planning & Zoning agenda, followed by the Nov. 20 Town Council agenda.
Lakeside Business District 
In 1985, the 1,500-acres were zoned for commercial industrial uses.
In 2001, the Lakeside Business District was created and 390 acres were set aside for Campus Commercial uses in hopes to attract larger corporate headquarters.
In 2013, the master plan was amended to allow retail, office and "limited" residential under the Campus Commercial zoning. The intent was to create a vibrant area encouraging dynamic economic development by providing live-work and play opportunities. It creates a unique quality of life and sense of place through a mixture of uses, design details, amenity quality and natural open-spaces.
In 2017, the council asked for some clarification focus on: building and site design; high-quality development standards; creating engaging and inspiring places; preserving and creating natural areas; connectivity to surrounding developments.