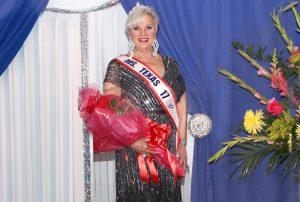 Catherine Brown of Flower Mound was crowned Ms. Texas Senior America (MTSA) from among 18 contestants, all over 60-years-old, who came from across the state, at the DoubleTree Hotel in Dallas on Aug. 5.
According to the pageant website, MTSA champions healthy aging, wellness and mental well-being. The goal of Ms. Texas Senior America is to enrich and empower the lives of all seniors and promote the senior woman "in all her glory."
At 74-1/2-years-young, Brown is constantly active. Her 43-years working with IBM– beginning as a temp, to a regional manager, a short-lived retirement (21-years ago with her move to Texas), that transitioned into 11-years as an IBM contract employee.
"I started with IBM in Syracuse, NY, then moved to Rochester, NY, followed by a move to Boston– where I met my husband, Alan, who was my next-door-neighbor– and then I retired and moved here (Flower Mound) to be near family."
At the time, her parents and sister were already living in Texas. Her son, Jeffrey, now lives in Michigan, but her two grandchildren live in Houston, as do her two great-grandchildren.
Brown stressed the pageant is not a beauty contest. The contestants are judged on their philosophy of life, interviews with judges, their talent and their gown presentations. Brown performed "Somewhere Over the Rainbow" in the talent portion of the competition.
Brown has been a singer and musical performer since age 18, but has never had any formal training. Six-years-ago she formed the Silver Singers– a group of performers who travel across the Metroplex visiting rehab and nursing home facilities to entertain the residents/patients; especially those long-term residents who don't have visitors or family in the area.
"We perform a sort of one-act skit and insert familiar songs, which the audience knows well, so it becomes a 'sing-along' performance," said Brown, adding that she gets more from the visits than the audience members.
"Catherine blew the judges away with her beautiful voice and demure [presence]," Pageant Director Sarah Senter said. "She is truly a beautiful lady inside and out and will be a fabulous Ms. Texas Senior America."
Senter said Brown will be making several appearances across the Metroplex and, hopefully across Texas as well, throughout the year as a performer with the Cameo Club, an organization composed of former contestants and queens, which performs at senior villages and retirement homes.
"I became a member last year as a pageant participant– there are more than 50 of us in the group," said Brown. "A calendar of upcoming performances is put up and people can sign-up for as many– or as few– performances as they like."
She placed third runner-up in the 2016 pageant, saying "I made so many new friends-for-life, that I decided to enter it [the pageant] again this year."
Brown traveled to Atlantic City, N.J., this past week for the day-long competition on Oct. 19 to compete against women from all over the U.S. for the title of Ms. Senior America 2017.  New Jersey's Carolyn Slade Harden took the crown this year.
Brown is the third woman from the Lewisville Senior Center to earn the title of Ms. Texas Senior America. Her victory follows that of Gaynelle Carley Gray in 1992 and Jill Beam in 2015.