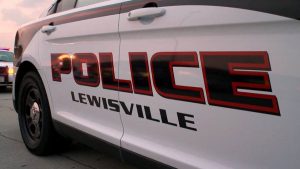 A 33-year-old Highland Village man has been identified as the victim of Thursday morning's fatal crash at FM 407 and Garden Ridge Boulevard.
Tyler Justice was riding his motorcycle eastbound on FM 407 through the intersection when he collided with a white sedan in the intersection. He was pronounced dead at 9:07 a.m. from blunt force trauma to his head and chest from the collision, according to the Tarrant County Medical Examiner's office.
The sedan had been going west on 407 and it was turning left to head south on Garden Ridge when the motorcycle struck its passenger side, according to police. Justice was wearing a helmet and "everything you're supposed to have" when riding a motorcycle.
Lewisville Police Captain Mike Moore said Friday afternoon that the department has conducted an extensive investigation to determine which driver was at fault. The woman told police she had a blinking yellow arrow, but a witness, the driver behind her, told police it was a solid green circle.
Lewisville traffic lights cycle differently, based on the time of day, so police needed to see how the lights cycled through at that intersection during that time of day to determine if the woman failed to yield right of way or if Justice ran a red light, Moore said.
Investigators went out to the intersection at 9 a.m. Friday to check the traffic lights from both drivers' perspectives. They saw that the woman would have been seeing a blinking yellow arrow, corroborating her story, but they were unable to determine with certainty whether Justice was driving through a green light or a red light, leaving the investigation unresolved.
"As unbelievable as it sounds, both scenarios are possible," Moore said. "I don't think there's any way we'll do better than that."