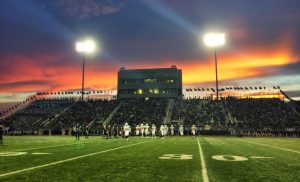 Argyle 56, Gainesville 13
Argyle remains unbeaten following a 56-13 victory over Gainesville on Friday night.
The Eagles defense came up with seven sacks in the first half of their homecoming victory over the Leopards.
Jon Copeland passed for 263 yards and three touchdowns in the game for Argyle, while Don Williams rushed for 112 yards and two touchdowns.
Argyle will play at 7 p.m. on Friday, Oct. 27, at Sanger.
The Eagles come come out on top against Gainesville with an ending score of 56-13. @argylesports #txhsfb pic.twitter.com/HvqvpkkgLm

— The Talon News (@TheTalonNews) October 21, 2017
Hebron 34, Flower Mound 21
The Flower Mound football team looked good early in Friday night's game against Hebron, but fell short, losing 34-21.
The Jaguars jumped out to a 14-0 lead on a 32-yard touchdown pass from Blake Short to Troy Clark and a 4-yard run from Alec Brooks.
But the Hawks scored 34 unanswered points before Brooks scored on another 4-yard run.
Flower Mound will play at Marcus in the Mound Showdown at 7:30 p.m. on Friday, Oct. 27.
Congratulations to Carson Winters on your first varsity touchdown! pic.twitter.com/mfFTACa1YR

— Joe Lorenzini (@lorenziniphotog) October 21, 2017
Allen 45, Guyer 7
Guyer struck first on Friday night, but never scored again as top-ranked Allen defeated the Wildcats 45-7.
Luke Stillwell connected with Harrison Bohannon on a 3-yard touchdown pass to make it 7-0 Guyer, but that was all the scoring the Wildcats would get in the game.
Guyer will play at 7:30 p.m. on Friday, Oct. 27, at Wylie.
Southlake Caroll 35, Marcus 21
Despite a close game at first, the Dragons ended up outscoring Marcus by two TD's on Friday night.
Marcus jumped out to an early lead when Evan Greene caught a 12-yard pass from Rasheed Noel, and Justin Dinka scored on two touchdown runs.
The Marauders will host Flower Mound in the Mound Showdown at 7:30 p.m. on Friday, Oct. 27.
Liberty Christian 24, Trinity Christian 14
The Warriors improved to 5-2 on the season on Friday night with a 10-point victory over Trinity Christian.
The defense came up big in the game for the Warriors, as Connor Payton scored on a 65-yard interception return and Grant Sawy returned a 30-yard pick for Liberty Christian.
Kade Johnson scored on a 4-yard run and Cameron Baller kicked a 32-yard field goal in the game.
Liberty Christian will play at 7 p.m. on Friday, Oct. 27 at Bishop Lynch.
Coram Deo 49, Pantego Christian 20
Coram Deo improved to 6-1 on the season with a 49-20 victory over Pantego Christian on Friday night.
Caleb Johnson rushed for two touchdowns in the game, while Hunter Longcrier and Jackson Jarvis scored on touchdown runs as well.
Coram Deo will play at 7 p.m. on Friday, Oct. 27, at Covenant Christian in Colleyville.