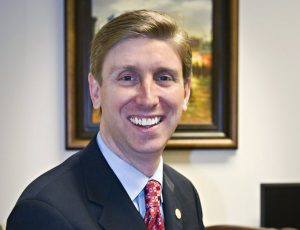 By State Representative Tan Parker
On any typical odd-numbered year, two momentous occasions occur in Texas regarding the state government: The Texas Legislature convenes in January for a 140-day regular session and the state's constitutional amendment election occurs in November.  Now that your legislature adjourned, we look to what is ahead for voters to consider as part of the 2017 Constitutional Election.
First, in order for any proposition to become an amendment to our Texas Constitution, it must receive a super majority, or two-thirds of the vote in each chamber of the legislature. That equates to 100 members in the Texas House and 21 members of the Texas Senate.
During the legislative process earlier this year, over 150 joint resolutions to amend our Texas Constitution were proposed.  In all, seven were ultimately passed and have become propositions on the upcoming November 7th ballot.  Yet the final approval comes from the citizens of Texas, as these propositions must next be approved by voters.
It is imperative for everyone to remember that constitutional elections provide an important and unique way for citizens to have direct input into the governing process.  Therefore, I strongly feel it is crucial that the citizens of Texas voice their opinions during this election as they have done previously on measures related to curbing lawsuit abuse, increasing transparency in government, providing for transportation dollars, improving higher education, and even conducting cancer research.
During this upcoming election, Texans will be able to consider the following proposed constitutional amendments that are reflective of many areas of public policy including taxes, banking and housing.  Here is a brief summary of each of them:
Proposition 1 – Provides certain disabled veterans or their surviving spouses with property tax exemptions. Proposition 1 would modify the Constitution to allow a disabled veteran or their surviving spouse to receive a property tax exemption if their house was donated or sold to them at less than market value by a charity.
Proposition 2 – Authorizes a number of changes to current standards surrounding home equity. Proposition 2 would establish a lower amount for expenses that can be charged to a borrower and removing certain financing expense limitations for a home equity loan, establishing certain authorized lenders to make a home equity loan, changing certain options for the refinancing of home equity loans, changing the threshold for an advance of a home equity line of credit, and allowing home equity loans on agricultural homesteads.
Proposition 3 – Limits the service of certain appointed officeholders after the expiration of the person's term of office. Proposition 3 would limit political appointees to only serve beyond their term in office until the ending of the legislative session that follows the expiration date of their term.
Proposition 4 – Requires a court to provide notice to the attorney general of a challenge to the constitutionality of a state statute.  Proposition 4 authorizes the legislature to require a court to provide notice to the attorney general of a challenge to the constitutionality of a state statute and authorizing the legislature to prescribe a waiting period before the court may enter a judgment holding the statute unconstitutional.
Proposition 5 – Permits professional sports team charitable foundations to conduct charitable raffles. Proposition 5 would permit the foundations of sports teams to conduct charitable raffles at games hosted at the their home venue.
Proposition 6 – Provides a property tax exemption to the surviving spouse of a first responder who is either killed or fatally injured in the line of duty. Proposition 6 would exempt families of fallen first responders from all or part of the market value of their home.
Proposition 7 – Permits credit unions and other financial institutions to award prizes to promote savings. Proposition 7 would allow qualifying banks, credit unions, and other financial institutions to conduct promotional activities, including raffles, if it encourages savings.
Your participation in this upcoming constitutional amendment election is very important, and I encourage you to exercise your voting right in the next month. The decisions made on Election Day, November 7, 2017, will have a lasting impact on you, your family and the entire state of Texas. You must be registered to vote by October 10th to participate.  For more information on locations as well as important Election Day information, click here.
As always, it is an honor to serve you in the Texas House of Representatives, and I welcome your feedback. If you would like to share a thought with me, please feel free to contact me at 512.463.0688 or by email at [email protected].