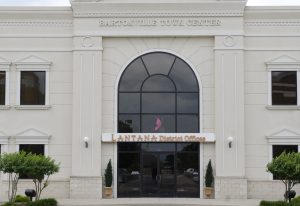 The two Fresh Water Supply District (FWSD) boards recently approved their respective 2017-18 fiscal year budgets and property tax rates.
FWSD #6 officials lowered the property tax rate by 5 cents, to 95 cents per $100 of property value. The tax rate in FWSD #7 will remain the same at $1.
Development in FWSD #7 started later and there are at least two more developer reimbursement bonds to issue, but the #7 board will consider lowering its tax rate next year, said Lantana Controller Richard Harned.
The bulk of the tax rate goes towards paying off bonds used to build Lantana's infrastructure.
Expected revenues for FWSD #6 and #7 for the 12 month period that started Oct. 1 are just under $10 million and combined expenses are budgeted at $9.6 million, with more than half of the expenses consisting of municipal bond payments.
The budget contains a 4-percent increase for personnel expenses. The districts employ nine full time employees.
The boards also passed a $1 per month base rate increase on water service effective Oct. 1 to cover the increase from raw water suppliers.