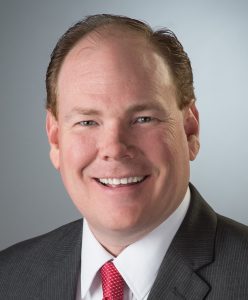 Tanger Outlets to Open This Month
One of my top priorities as County Commissioner is to help reduce the property tax burden on residential homes by increasing and diversifying the commercial tax base here in Denton County. We are accomplishing this by attracting outstanding manufacturing, distribution, corporate campus, and commercial and retail projects. Tanger Outlets opening in Denton County is one of these success stories.
The much-anticipated opening of the new Tanger Outlets, located at the southwest corner of I-35W and SH 114 next to Buc-ee's, is set for Friday, October 27, just in time for Christmas shopping. The center will be home to more than 75 stores, including Brooks Brothers, H&M, Gap, Nike, Guess, Levi's, Restoration Hardware, and much more, and is expected to hire about 900 full-time and part-time workers.
Charles Schwab Breaks Ground on New DFW Campus
Last month, local leaders had the opportunity to welcome executives from Charles Schwab Corp. to Denton County and the Town of Westlake at the groundbreaking for their new DFW campus. Schwab's corporate expansion to Denton County was the results of active recruitment efforts from the private sector, County, and Town. This 500,000 square foot regional campus will be home to more than 2,000 new employees in its first phase with room to grow that number to more than 4,500.
Canyon Oaks Reconstruction Ahead of Schedule
I am happy to report that the Canyon Oaks subdivision roadway reconstruction project is progressing ahead of schedule. The contractor, Quality Excavation, started by addressing areas in the existing pavement through full depth repair and replaced the deteriorated metal culvert with concrete equivalents.
Next, the ditches were cleaned out for improved drainage and the road surface prepared for pavement overlay by crack seal and removal of humps and upheaval of pavement. The last portion, paving throughout, will begin this week.
If you have any questions or concerns, please call our office or Road and Bridge West at 940-349-3430.
New Lower Tax Rate 
The Denton County Commissioners Court officially adopted the new, lower tax rate of $0.237812 per $100 for the tax year 2018.
This new tax rate will generate approximately $204.4 million in the tax year 2018 and will provide funds for the increase for mandatory debt service payments for voter-approved road and facility projects. Also, the funds generated from new property added to the tax roll, which amounts to $8,675,101, will be used to help fund employee-related costs and operating expenses.
The decreased rate of $0.237812 represents a decrease of $0.010597 from the tax rate last year of $0.248409.
Journey to Dream Gala October 14 
For the past 13-years, the Lewisville-based youth-support nonprofit, Journey to Dream, has positively impacted hundreds of thousands of young people in North Texas, providing community outreach, support services and homeless programs, including their new emergency youth shelter for unaccompanied teens, Kyle's Place, which opened this summer.
Kyle's Place is the first and only homeless shelter in Denton County to house and care for unaccompanied youth ages 14-18. Aside from giving teens a safe place to sleep and basic necessities, Kyle's Place offers the programs and support homeless youth need to get on their feet and succeed.
Journey to Dream believes every teen matters and deserves the opportunity to achieve their dreams. To help raise money and continue their efforts to serve the homeless teens in our area, they will hold the Dream Big Gala on Saturday, October 14, at 6:30 p.m. at the Hilton Garden Inn in Lewisville.
In addition to silent and live auctions, this year's event features award-winning country music artist and NY Times bestselling author, Jimmy Wayne, as the keynote speaker! Log onto their website at www.journeytodream.com for more details and ticket purchase and sponsorship information.
Lewisville Education Foundation and Denton Public School Foundation First Annual Jim Collin & Steve Allen Memorial Golf Tournament October 16
Join the Lewisville ISD Education Foundation and the Denton Public School Foundation on October 16 at Denton Country Club for a great day of golf paying tribute to two of our community's finest – Jim Collin and Steve Allen. Lunch begins at 11:30 a.m. with a shotgun start at 1 p.m. The proceeds from this event will support the missions of both foundations.
Jim Collin graduated from the University of Florida after serving two years in the U.S. Air Force. He began his career in the glass industry with PPG where he worked for 28 years. Jim loved his family, maintaining his yard, traveling, and playing golf and cards with his friends. He never met a stranger, loved being with people, and always enjoyed a good party. He loved life!
Steve Allen worked hard for his community by serving on the LISD school board from 1986-1998 and by sponsoring numerous fundraising drives and charity events in the area. Sign up today to continue his legacy of giving.
There are just a few sponsorships left but plenty of room for players. Don't miss out!
10th Annual Fallen Officers Bike Race and 5K October 21
An officer is killed in the line of duty every 61 hours. Throughout history, there have been more line of duty deaths in the State of Texas than any other state or territory.
The Texas Police Chiefs Association's Fallen Officer Fund provides monetary assistance to Texas families of fallen heroes within 24 hours following an officer's line of duty death.
The Fallen Officers Bike Race is a community event that takes place at The Shops at Highland Village on Saturday, October 21. Activities include a 5K run, civilian bike race, and a police team bike race. There is live music, demonstrations, raffle prizes, a silent auction, kids zone, food, and drinks throughout the day. The 5K run begins at 8 a.m. and the bike races start at 5 p.m.
Since 2008, the group has raised over $150,000 for the Fallen Officer Fund but needs your help to reach their goal of $30,000 this year!
Children's Advocacy Center 20th Anniversary Breakfast November 2
The Children's Advocacy Center for Denton County's (CACDC) empowers child abuse victims, their families, and our community through education, healing, and justice. Their vision is to break the cycle of child abuse by educating families and our community to protect children proactively.
Jenna Quinn will join State Representative Tan Parker at CACDC 20th Anniversary Breakfast will be at 7:30 a.m. on Thursday, November 2, at the University of North Texas Gateway Center.
In addition to raising money for this organization that does such great work, this event will also be a celebration of CACDC's 20 years of providing healing and justice to child abuse victims in Denton County. Since their opening in 1997, the CACDC has assisted more than 10,000 abused children in their road to recovery, and with our help, that number can only go up!
We hope you will join us for this unforgettable event as CACDC fondly remembers its history and looks to the future. Just click the link to register: http://cacdc.org/breakfastregistration/ 
CISNT Golf Tournament October 23
The mission of Communities In Schools of North Texas (CISNT) is to surround students with a community of support, empowering them to stay in school and achieve in life. To raise money for these programs, CISNT is hosting its largest fundraiser of the year, the 2017 "Link'd 2 Kids" Golf Tournament, on Monday, October 23, at the Lantana Golf Club.
Attendees will include community and business leaders, as well as representatives from their partner school districts, including Lewisville ISD, Denton ISD, Northwest ISD, Lake Dallas ISD, Little Elm ISD, and Bridgeport ISD.
Funding from this event will help keep 4,000 North Texas kids in school and on track for graduation. Sponsorship opportunities are still available. Just go to their website at www.cisnt.org for more information and support details. Alternatively, email [email protected] to RSVP and to secure your sponsorship! 
Did You Know?
The County and its municipal partners have preplanned with each other to respond quickly by joining emergency units together for a quick response to emergencies within Denton County, and that same philosophy works well when fellow Texans need our help outside of Denton County.
In the heart of devastation and insurmountable loss brought by Hurricane Harvey, some of the most memorable images were those of our fellow Texans helping each other. The attitude of Texans helping Texans makes me proud to live and call Texas my home, and that pride starts here in Denton County with our very own first responders who deployed without hesitation to serve their fellow Texans. Denton County and its municipalities have a unique family of first responders who are the first to stand proudly together and ask, "When do we leave to help?"
Fire service agencies within Denton County sent multiple task forces to support and help Texans during the aftermath of Hurricane Harvey. Also, ambulance crews from many Denton County cities left days before hurricane landfall to assist in the evacuation of those in hospitals and nursing homes that were in the projected path.
Over 100 firefighters and EMS personnel from Denton County agencies responded to the call for help. Many of our county and city agencies sent police, public works and animal control personnel to assist with the broad mission to directly support fellow Texans in need.
Our wonderful delegation of Denton County State Representatives (Tan Parker, Ron Simmons, Pat Fallon, and Lynn Stucky) partnered to lead a supply drive with our Denton County Sheriff Tracy Murphree. Denton County residents answered the call to help fellow Texans, and Representative Parker personally accompanied the convoy of trucks donated by Denton County-based Peterbilt to warehouses in Beaumont and Port Arthur. With the generosity of our communities and numerous volunteers, they successfully collected approximately 160,000 pounds of supplies. Representative Stucky put his veterinary skills to use as well and was part of a relief veterinary medical team to help our four-legged Texans.
The men and women that make up first responders throughout Denton County are not required to respond outside of their city or county, but are asked by their supervisor "Who wants to help?" Fire Chiefs are never surprised by the overwhelming response of their personnel that raises their hand and says "I am ready." The call for assistance to Hurricane Harvey came with little time for deploying first responders to ready themselves with personal preparations for what could be a 14-day deployment into devastating and life-threatening conditions.
As the events of Hurricane Harvey unfolded and we watched the actions of our first responders on the news or social media outlets, it made my heart proud of their dedication to serving their fellow Texan. A sincere thank you to those Denton County first responders and military personnel that served, and to the families that carried the extra load during their dedicated absence.
Connect With Us
We would love to have you connected to the county by subscribing to our newsletter. Just use this link and enter your email and you will be up-to-date on everything that's going on in Precinct 4: http://bit.ly/Pct4newsletter
Moreover, be sure and find us on Facebook at www.facebook.com/CommissionerAndyEads for the latest news in Denton County.
If you have any questions or comments, please let me hear from you. My email is [email protected], and my office number is 972-434-3960.