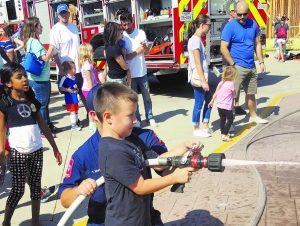 Hundreds of Flower Mounders showed up at the Flower Mound Fire Department's Open House on Saturday at Fire Station 1, 3911 S. Broadway.
Attendees not only learned about the vital services our first responders provide but also had a good time eating hot dogs and popcorn.
Various activities were offered, including climbing aboard fire trucks, seeing how the FM Fire Department helped Hurricane Harvey victims, viewing a fire truck from the Dallas/Fort Worth International Airport, manning a fire hose, touring the station, and watching an exciting demonstration of how firefighters extricate car crash victims from damaged vehicles.