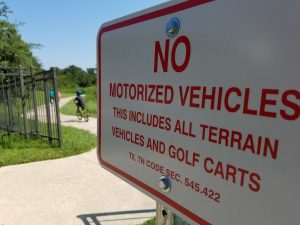 Golf cart drivers going where they shouldn't continue to be an issue in Lantana. So much so that the two Fresh Water Supply District boards discussed at their joint meeting in September erecting physical barriers to keep them off of the hike and bike trails.
A combination of boulders, bollards and fences at the entrances to the trails was being considered. The barricades would be positioned to block golf carts but still allow bicycles, joggers and walkers with baby strollers to enter.
Some board members questioned if there was truly a problem or a solution looking for a problem.
"I live on the hike and bike trail and I see (golf carts) a lot," said FWSD #7 board member Randy Fogle.
"I see them all the time. I'm in the backyard and all the sudden you hear them coming. You can't miss it," added FWSD #7 board member Andrew Kloser. He said that he had also spotted dirt bikes and other motorized vehicles on the trail.
According to state law, golf cart drivers have to be over the age of 14, cannot be operated at night, cannot be operated on a street with a posted speed limit over 35 miles per hour and cannot be operated on a public sidewalk.
Lantana General Manager Kevin Mercer said that golf carts also continue to be a problem on the sidewalks along Lantana Trail and placing bollards on those walkways might be a good idea as well.
Some board members were concerned that the bollards may put more people in danger if golf carts attempt to circumvent them.
"It may end up doing more harm than good," said Mercer.
"I'd be more inclined to say let's work on an enforcement policy, let's work on better signage, let's work on some volunteers," said FWSD #6 board member Sheldon Gilbert. "I just don't think you're going to solve the problem, I think we're going to push the problem in a different direction."
Mercer presented a quote to the boards for $8,925 to fortify the hike and bike trails.
The proposal was unanimously approved by the FWSD #7 board but the motion didn't get a second by the FWSD #6 board. Since both boards were to share the cost of the bollards, the #7 board decided not to pursue the measures but all agreed to consider other solutions going forward.
"Honestly for me the biggest issue with this is it doesn't stop the problem. All you are doing is eliminating the golf carts, you're not eliminating the dirt bikes," said FWSD #6 president Kurt Sewell. "Unfortunately it's going to probably take an accident to get anybody's attention."
Since then, the destruction of landscaping by motorized vehicles along Lantana Trail has again come to the forefront.
On Friday, Mercer sent the following email to board members: "We continue to get numerous heated complaints from residents regarding the operation of golf carts on the sidewalks along Lantana Trail. The complaints are generally regarding safety concerns for pedestrians using the sidewalks. However, lately the complaints have been concerns about landscaping damage being caused by careless drivers. As a result, we will be installing boulders in strategic areas to attempt to keep the carts on the sidewalk where damage has occurred to the adjacent landscaping."