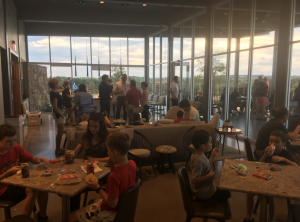 Thousands of southern Denton County residents turned out Tuesday night to celebrate National Night Out with local first responders.
National Night Out is an annual event that brings neighborhoods and law enforcement together to increase awareness of neighborhood issues, specifically targeting crime and drug prevention awareness, and it strengthens the relationship between police and the community.
"National Night Out is an opportunity for police to get out and fellowship with the community," said Flower Mound Police Officer Justin Buck. "And the community can learn we're not just there to put the bad guys in jail, but we're there to help kids, teach them, keep them safe, play basketball with them or just give them a high five."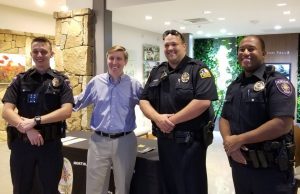 Neighborhoods organized block parties across the country and across the local area, and police officers and firefighters came out to hang out with residents. They gave kids police stickers and bracelets, while families gathered for food, games and other activities.
Tan Parker, state representative for House District 63, which covers southern Denton County, toured several National Night Out block parties Tuesday night, beginning with the one at the Canyon Falls Community Center in far west Flower Mound.
"In this area, we're very blessed. We have a wonderful relationship with law enforcement," Parker said.
Mark Flores, a Canyon Falls resident, turned out with his family because he wanted to support local police.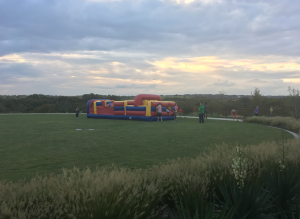 "They do a great job for us, and they've got to get recognition," Flores said. "They're here to protect and serve us, and I am glad that we are recognizing the people taking care of us."
Northlake Police Chief Robert Crawford, attending one of the NNO events, said good things come from the police and public getting to know each other better.
"We want the community to know that we're there to help them," Crawford said. "And they're our eyes and ears out there, and if we have a good relationship with them, they're more likely to call us and report something suspicious or ask questions, even if it seems small and simple, because it might not be."