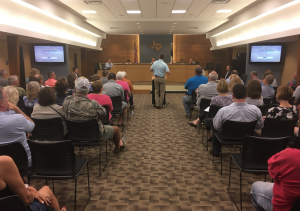 The future of the land northeast of I-35W and FM 407 is now unclear after the development company of the proposed Lochlan of Argyle community withdrew from Tuesday night's Town Council meeting agenda.
Terra Manna brought a controversial development plan to Argyle's Planning & Zoning Commission meeting in early August that, if approved by Town Council, would have brought nearly 700 homes and 20 commercial buildings to a 330-acre piece of land in west Argyle. Residents voiced strong opposition to the proposal during the meeting, and the commission chose to table the matter until the next meeting in early September, so Terra Manna could address several concerns, primarily density around the outer edges of the development.
In the Sept. 5 P&Z meeting, Terra Manna presented its new plan, which was redesigned to add commercial space and reduce the number of lots from 695 to 537, increasing the lot size for many homes. But it kept hundreds of its lot sizes below 7,200 square feet, including 58 patio homes, and many Argyle residents spoke against it during the public hearing. Many encouraged the developers to design a plan with much larger lot sizes, assuring them they would still sell well.
After a short discussion, the commission voted unanimously to recommend that Town Council deny the proposal. Terra Manna had requested for the Lochlan plan to be on the agenda for the Sept. 26 meeting, but the company has since withdrawn its request, said Town Manager Matt Jones, who said Terra Manna did not indicate what its plans were for the land.
Terra Manna representatives have not returned multiple calls seeking comment.