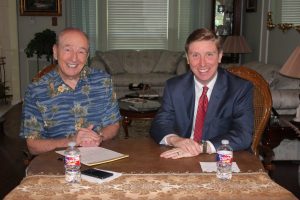 Currently in his sixth term, State Representative Tan Parker represents House District 63, which stretches across the bluebonnets of Flower Mound to the Texas Motor Speedway in Fort Worth to the horse county of Argyle.
Initially elected to office in 2006, Parker is an effective champion for economic development, job creation, tax relief, appraisal reform, border security, and promoting fiscally responsible government spending. He is also known for his advocacy for children on a wide range of policy issues including improvements to the foster care system, a framework to support homeless teens, the crackdown on human trafficking, and the protection and welfare of children on a wide range of issues including abuse, wellness, and public safety.
For the 85th Legislative Session, Parker was re-appointed as Chairman of the House Committee on Investments and Financial Services. In addition, he was re-elected by his House colleagues to serve as the Chairman of the House Republican Caucus, which represents all 95 Republican House members. In this capacity, he leads the overwhelming Republican majority by providing research, education, policy development, floor management, and other critical support to the Caucus members and their staff. For those of us in District 63, it's comforting to know we have a champion on so many issues of public concern.
Recently, as our state has been dealing with the ravages of Hurricane Harvey, Parker has been thoroughly involved in assisting victims in the southern portion of Texas. Working closely with Governor Greg Abbot, and many other state leaders, Parker and other reps have been using their district offices as locations for people to drop off needed supplies which are being trucked to the Houston area of the state. Parker's district office is in the 800 building in Parker Square, Suite #245, Flower Mound.
The federal government goes through at least three stages when responding to a natural disaster on the scale of Hurricane Harvey. First is the immediate search-and-rescue efforts; the life-saving mode, trying to save as many lives as possible. The second stage is short-term recovery, which involves restoring power where possible and moving residents back into homes that are still habitable. The third and longest stage of disaster relief is the one in which federal and local government rebuild the infrastructure crippled by the hurricane and try to get life as close to normal as possible.
In the video below, Rep. Parker talks about how you can help by donating the type of supplies most needed by those who have lost so much. He also includes information on which relief agencies you should donate to. A short list of needs include: cases of bottled water, large trash bags, pet food, paper towels, work gloves, bug spray, first aid kits, aspirin, diapers, buckets, cleaning supplies, Clorox wipes, bleach, school supplies, new school clothes and gift cards from Amazon, Walmart, Home Depot, Lowe's, etc.
Bob Weir is a former NYPD officer, long-time Flower Mound resident and former local newspaper editor.