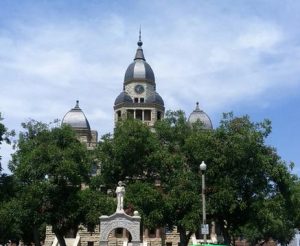 Denton County Commissioners voted unanimously last week to approve a lower tax rate and a higher budget for the 2017-18 fiscal year, which begins on Oct. 1.
The current tax rate for tax year 2016 is $0.248409 compared to the proposed decreased rate of $0.237812 – a decrease of $0.010597.
"It was very important to decrease the tax rate because the county continues to grow, and people across the state, and the country, realize we have great quality of life here," said Precinct 4 Commissioner Andy Eads. "We have increased residential and commercial property values, which helped us lower the tax rate."
Only two counties in Texas — Midland and Collin have a lower tax rate than Denton, according to the county.
The tax rate being proposed will generate approximately $204.4 million in tax year 2017 and will provide funds for the increase for mandatory debt service payments for voter approved road and facility projects, according to Eads, and the additional funds generated from new property added to the tax roll of $8,675,101 will be used to help fund employee-related cost and operating expenses.
The county's new $292 million budget is an increase of more than $26 million over the current budget. The largest increases were related to county employment.
Included in the $26 million increase is $5.78 million for a 5 percent pay raise for county employees, plus about $3 million more to cover their health insurance cost increase, market adjustments, election/visiting judges and retirement rate increase. Another $2.33 million goes toward 24.25 new hires, though 32.25 were requested.
"There were expenses that had to be addressed," Eads said.
The other major changes include a $5.5 million increase in debt service payments, $5 million for parking lot repairs and the construction of a new precinct courtroom and $1.9 million to be transferred to the capital replacement fund.
Other major changes that accounted for $1 million or less added to the budget include increased road project planning, capital equipment, increased computer equipment, increased repairs and maintenance and increased expense of fire and ambulance calls.
The budget can be found here on the county's website.