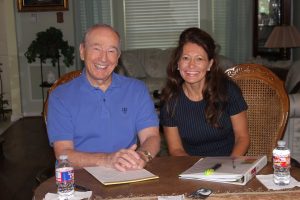 The fastest growing population in the country is Latinos. In Texas, it's estimated that Latinos make up almost 40% of the population. Yet, they are the lowest voting bloc and those that vote generally pull the lever for Democrats, according to Ruth Canclini Armfield, Vice-President of the Denton County Republican Assembly. On her blog: www.classyliberalmedia.com she writes about the conservative principles inherent in the Latino culture.
"We are individuals who have organized around a few simple ideas. First, every individual has basic human rights of life, liberty, and property… regardless of where they are from. Second, free enterprise economics is the best system to bring justice to the most people. Third, the basic human rights and free enterprise economics work only within a moral society where honesty and respect are cornerstones of decency. Classy Liberal Media seeks to help individuals understand their basic human rights, how free enterprise economics works for their best interest and the virtues needed to live productive and happy lives.
"Classy Liberal Media understand that many Latinos have lived suffocating lives within their home country's corrupt political system, and they have been denied their human rights to life, liberty, property, and the pursuit of happiness. Looking for a better life, Latinos come to America in search of that dream.  It is finally time for Latinos to rise up and overcome their burdening political systems, attaining their God-given basic human rights. We, at Classy Liberal Media, are here to support them."
Ms. Armfield goes on to say: "I am an immigrant from a socialist country (Argentina) where political corruption from the government took away individual freedoms.  I grew up in poverty (lack of food, clothing, miserable housing conditions, no opportunity, a corrupt society) where unless you know the "right people with the right connections" your chance of improving your future is very unlikely.  I knew I wanted something different from the misery I grew up in, so when I was almost 21 years old, I decided to come to America with a student visa.
"It's a matter of principle: people live the happiest in a capitalist-conservative society.  That is what makes America great and what people who want to achieve the American dream fight for.  Latinos are a conservative people at heart. They are a family and Christian people. The message of the left does not line up with who the Latinos are. Socialism kills open markets! Morality and values in a capitalist society, with free market enterprise, small government and focus on the power of the individual inspires all people to achieve their dreams. That concept needs to be spread, not only among Latinos, but also among millennials, to keep America great!   Misinformation and material need are to blame for the unfortunate-Democrat-Latino vote.  Classy Liberal Media is to bring Latinos to conservatism and make sure Texas stays Red!"
In the video below, Ms. Armfield talks about her efforts to bring more Latinos into the Republican Party.
Bob Weir is a former NYPD officer, long-time Flower Mound resident and former local newspaper editor.