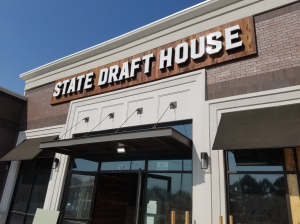 Two local craft beer pubs are preparing to open later this month in Flower Mound.
State Draft House
State Draft House is targeting an open date of Sept. 23 for its first location, 1050 Flower Mound Road, near the intersection of Flower Mound Road and Morriss Road.
State Draft House will be an upscale but casual neighborhood draft house with 81 rotating taps of craft beer, wine, spirit and soda made in Texas.
"We're absolutely thrilled to be opening in Flower Mound," said owner and Lewisville resident Andrew Hendrikson. "I love craft beer and sharing that love with my neighbors is a dream come true."
State Draft House became a dream of Hendrikson's 10 years ago, and he switched careers from working as an engineering manager and director at Fidelity Investments.
Professionally trained staff, including Cicerone-certified beer serves, will help guide customers to a craft beer they will enjoy.
State Draft House will also serve lunch and dinner with "creative twists on classic American comfort food," according to a news release.
The menu shows that this is clearly no typical pub fare. Starters include spicy gulf crab cakes with mango salsa, smoked brisket poutine and sweet and spicy pickles, among others. Customers will also be able to order salads, sandwiches and burgers, tacos and other entrees, sides and desserts. It's important to ownership that the kitchen serve fresh ingredients "sourced as locally as possible."
Hendrikson and Jonathan Pinto, the general manager and co-owner, chose the location in part because of "the area's dynamic development."
"Our location is one of the few in south Flower Mound that has retail on all four corners. There's a lot of traffic driving by each day," Pinto said. "Besides, who doesn't want to grab a great beer on their way home from work?"
For more information, visit State Draft House's website.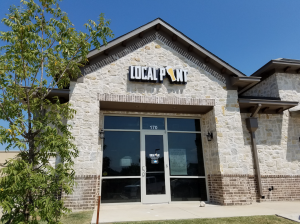 Local Pint
Local Pint will open soon at 2750 Churchill Drive, just southwest of the intersection of FM 1171 and 2499.
Local Pint will have 50 craft beer taps, a scratch kitchen, growler fills and wine on draft, and it'll be "going for a neighborhood Cheers atmosphere," said Co-owner Anna Borland.
Borland, a general manager and co-owner with Donald Harvey, said she loves craft beer and "fell in love with the industry" after getting to know some brewers in the area, and it prompted her to shift her career as a school counselor to begin working to open a new bar, and soon the Local Pint concept was born.
Initially, nearly all the beers on tap will be from Texas breweries, said Phillip Coleman, the general manager, but the drink menu will expand to include more craft breweries nationwide.
The lunch and dinner menu will have a strong emphasis on fresh, quality food.
"It's truly a scratch kitchen," Coleman said. "The only items that will be frozen are the french fries, and that's only because we don't have the room to cut them ourselves."
Coleman said Local Pint will have some traditional pub fare "with our spin on it," as well as some unique items, healthy and vegan options. The menu will also incorporate beer, naturally, whether it's in sauces or batters, or some items will be designed to pair with certain styles of beer.
Borland, a Flower Mound High School alumnus, said the support of the town has been encouraging.
"The community of Flower Mound is so excited to have us here," Borland said.
While management hadn't set a hard opening date as of this week, Local Pint is expected to quietly open its doors sometime soon. This will be the first Local Pint location, and, Borland said, ownership hopes to expand to other locations in the future.
For more information, visit Local Pint's website.