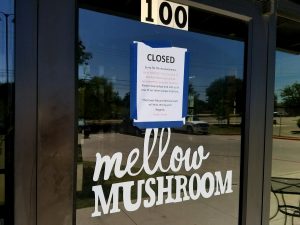 The Mellow Mushroom restaurant in Flower Mound has permanently closed.
A sign was posted on the front door Wednesday morning, saying "this location will be permanently closed for business."
"Please stay mellow and visit us at one of our other unique locations," the sign continued. "The Flower Mound Mellow team will miss serving you!"
The owner declined to comment Wednesday afternoon.
The pizzeria opened in October 2014 and was located near the intersection of FM 1171 and FM 2499.
The next closest Mellow Mushroom locations are in Southlake and Denton.