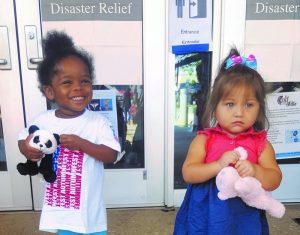 Flower Mound resident and Gazette reporter Dru Murray on Thursday traveled to Dallas' Walnut Hill Recreation Center at 10011 Midway Road, where evacuees from Hurricane Harvey have been given shelter.
Murray and her family lived in the Miami area for 12 years and in summer 2005 endured three hurricanes, including Katrina, so she knows all too well the distraught and devastation such storms can wreak.
American Red Cross volunteers told her that those wishing to donate $10 to victims should text REDCROSS to 90999. If you wish to donate goods, you may leave them at Trusted World located at 15660 N. Dallas Parkway, Dallas, TX 75248 since the evacuation center is unable to accept any more donations.
If you are interested in volunteering for the Red Cross, call 214-678-4800.