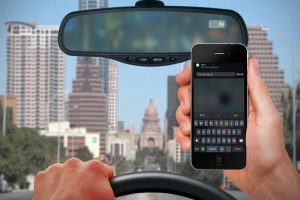 Texas' new texting while driving ban goes into effect Friday.
The bill means drivers can't read, write or send any electronic messages, with the exceptions of emergency situations and when the vehicle is stopped. You can still use your phone to play music, operate the GPS and talk hands-free.
Gov. Greg Abbott signed the bill — which was authored by Rep. Tom Craddick, R-Midland — in June. Similar bills had been vetoed by former Gov. Rick Perry or had failed in state legislature before this bill, according to the Texas Tribune, and Abbott hesitated for several days before signing it.
"By enacting this public safety legislation, the governor is saving lives by deterring this dangerous and deadly behavior," Craddick said in a statement. "For a long time, Texas has needed this law to prevent the loss of life in unnecessary and preventable crashes and we finally have it."
The bill is one of 673 state laws going into effect Friday.