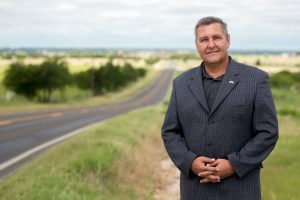 An old map from Denton County showed many pioneers living in Northlake prior to the 1930's.
There are stories of the outlaw Sam Bass and his gang riding through and hiding in Northlake during the turn of the century on the Gibbs' property along Denton Creek.
Today, the Town of Northlake's location, along the I-35W corridor, has positioned the town at the bullseye for imminent growth and the Gibbs' land will soon have many new occupants.
Northlake is surrounded on three sides of the regional growth surge: Fort Worth to the south, Denton to the north, and Flower Mound/Argyle to the east.
The town has easy access and proximity to major transportation arteries I-35W, Hwy 114, plus both DFW International and Alliance Airports, making the location a prime target for residential and commercial development. The Dallas–Fort Worth region is forecast to grow from 7.2-million to 10.5-million people and employ more than 6.6-million by the year 2040.
"It's all about proper growth," said Northlake Mayor Pete Dewing. "In 2016, citizen's input indicated they wanted to maintain a 'rural concept' plan that conforms with the nine surrounding communities, but is not influenced by them."
The 2014 land use and zoning show opportunities and limitations for Northlake, which has approximately the same total size (32-square-miles) as the Town of Flower Mound to its east. Opportunities for future development are limited, however, because almost one-third of its land is in a floodplain, plus the existence of gas wells and distribution lines further limit future development.
The amount of land in the town's extraterritorial jurisdiction (ETJ) is almost as much as that within the town limits. This means that in addition to managing growth in its town limits, Northlake needs to influence growth occurring in its ETJ to guarantee it's compatible with– or does not negatively impact– Northlake's vision for 2040.
Northlake's current zoning, which favors five-acre parcels, won't be able to accommodate the growth for which the community is primed. However, it also indicates that some areas have been zoned for higher-density residential uses in pockets and on a case-by-case basis.
Enter the Hillwood Communities' proposed mixed-use, master-planned development– made up of three tracts (Young, Gibbs and Thompson)– to be known as Pecan Square, with its presentation on Jan. 30. Council approved a memo of understanding with Hillwood on the creation of a Municipal Management District and consented to the permitting of a wastewater treatment plant.
Hillwood was established in 1988 by Ross Perot, Jr., and is one of the largest private real estate developers and investors in the U.S. The development of the "Alliance Corridor" along I-35W from the Fort Worth Alliance Airport (the world's first industrial airport), to the Alliance Town Center, the Harvest development; and, now the Pecan Square development speak to the developer's commitment.
The proposed Pecan Square development will include a mix of commercial and residential uses with a mix of lot sizes and densities, located on 1,157-acres west and south of the I-35W and FM 407 intersection.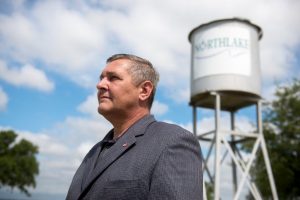 After public meetings and some resulting tweaks to the development plan, on April 13 the Town Council unanimously approved the developer's zoning request.
"A new elementary school [in Northlake] is included in the development plan and a new middle and high school, plus a sports complex, will be built," said Dewing. "The existing barn will be kept to be turned into a clubhouse and existing Northwest ISD facilities will be added too, for advanced agricultural sciences programs, among others."
Northlake is covered by three school districts. Most of the town is served by the Northwest ISD, while some areas are served by the Argyle ISD and the Ponder ISD.
Northwest ISD (NISD) is one of the largest and fastest-growing school districts in the state. It covers 234-square-miles, spanning three counties (Tarrant, Denton and Wise) and 14 municipalities. The NISD community approved the 2017 $399 million bond referendum, with 61-percent voting "for" the bond, to accommodate a projected 6,200 students in the next five years.
NISD operates 17 elementary schools, five middle schools, three comprehensive high schools and one accelerated high school. With the addition of an estimated 1,200 students during the summer months and continued growth, total student enrollment now exceeds 22,000. It also boasts a 97-percent graduation rate, with 84-percent of those graduates entering a college.
Argyle voters, also, recently passed a $166-million bond for Argyle ISD to address future student population growth, which is predicted to double in the next five years.
"If we don't purchase that property, that zoning goes away," said Angie Mastrocola, senior vice president of Hillwood Communities. "Right now we're waiting on state regulations and permits– things like mineral rights– and negotiations with [Northwest] ISD and a sewer treatment plant."
Although the developer is on-hold for Pecan Square, it's almost finished building the utilities for what will become the new Northlake Town Hall, plus 16-acres of retail land on the north side of FM 407 at Harvest.
"The Pecan Square development will be built in six-phases and will be a 10-year process," said Mastrocola. "Models should be open in May 2019."
Dewing said additional construction is underway from other developers.
"There are: two 7-11's; an IHOP, Sonic, and Popeye's restaurants, another hotel; an apartment complex of 350-units at Hwy 114 and Cleveland-Gibbs Roads; two strip-shopping centers; dental services; and commercial-retail centers in three different areas," said Dewing.
The Town of Northlake has a relatively recent history compared to its neighboring communities.
Northlake was incorporated on Dec. 28, 1960, for the purpose of protecting the rural character that area residents had known, not to grow. In fact, the population of the town was recorded as being only 20 people in the 1970 census. It was motivated by the concern that adjacent cities, including the cities of Denton and Fort Worth, had designs to absorb the community of ranches into their corporate limits.
Over the past six decades Northlake has preserved its rural character, in spite of its first two future growth pressures– the 1988 construction of Fort Worth Alliance Airport and the 1995 construction of Texas Motor Speedway. In 1999, Northlake constructed its first Town Hall on FM 407, where it currently conducts town business.
In 2002, the Town adopted a strategic master plan and a Northlake Comprehensive Land Use Plan was adopted in 2009, based on input from the residents, business owners and landowners.
The future trends that Northlake identified to address are: population growth: infrastructure development; smaller lots, but larger homes; increased traffic congestion; economic development and the need to increase the tax base; and, demand for urban villages.
That future vision is the town's 2014 Comprehensive Plan update, Pathway to 2040, which was created and implemented by the then 2,410 residents living in 1,052 households. The plan honors the town's rural legacy, while attracting a multi-generational, family-oriented population. It emphasizes policies that promote responsible growth, self-reliance, community engagement and a diversified tax base.
Growth will come, and Northlake wants to be ready to manage it.