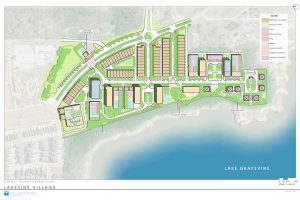 The developers of Lakeside DFW revealed details of its proposed 35-acre addition to the community, a mixed-use plan called Lakeside Village.
At the Moviehouse & Eatery on Thursday evening, Planner Kevin Sloan presented to Lakeside DFW homeowners the proposal for the piece of property on the south side of the The Lakeside Tower.
The proposal that features as many as seven lake-view restaurants, a garden-like street with shops and sidewalk dining, single-family villa homes, residential towers, a concealed parking garage and multiple ways for the public to enjoy views of nature and the lake, according to a Lakeside news release.
The detached villa homes are expected to sell for more than $1 million.
Richard Myers, managing partner of Realty Capital, master developers of Lakeside DFW, suggested the central building in this location would be ideal for a hotel.
The proposed plan includes an amphitheater and preserves about 140 trees.
The popular Sunset Point will be preserved and the boardwalk will extend southward, reincarnated as a trail meandering between trees, over ravines, and around outcroppings.
The plan, Myers said, included input from residents collected at meetings and online surveys in 2011 and 2012 as well as at sessions in June.
Myers said a club — recommended by many Lakeside DFW homeowners in June — had been incorporated into the plan. Located facing the Lakeside Dog Park, it is expected to include a pool, work-out room, and other party facilities as well as a parking lot.
Myers said construction could start as soon as the summer of 2018, pending approval of zoning modifications.
Myers encouraged residents to participate in the public hearings to come and to continue providing their input by commenting on the website or by contacting Realty Capital directly.
"Feel free to critique us," he said. "There's no way we can all agree on every detail of a plan this big."
Click here for more information and artist renderings of the proposed plan.