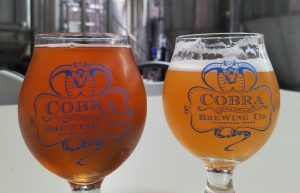 by David Ellerbe
I retired a few years ago with the goal of traveling the world with my wife Tamara.  With luck, retirement can bring new revelations and unexpected experiences that broaden your horizons.  We've lucked out.  Fresh out of the work world chute, we spent several months in Paris and, as avowed wine drinkers, found a trove of great and inexpensive French wines.
So far, so good, but nothing unexpected.  Our fortune in new discoveries really started when we went to Belgium – the Nirvana of great beer – and discovered a broad range of fantastic beers.  Wow!  It was like the instant in The Wizard of Oz when the black and white picture (Bud, Miller, Coors, anyone?) eye-pops to full Technicolor (how about some Westvleteren, Cantillon or Rochefort, my pretty?).
We're now full-bore beer enthusiasts.  OK, especially me.  Wherever we go, we explore the local beer scene.  We've found craft beer in places like Lithuania, Estonia, Slovenia, Cambodia and Bangkok, each unique to its locale.  It's something we look forward to on each journey.  This is my first foray into beer writing, and I hope to do future articles as we savor the wonderful world of beer.
Of course, delicious and interesting craft beer can be found all over the USA.  American IPAs are world-renowned and of great interest in Belgium.  Our country has over 5,000 craft breweries, more than triple the number just 10 years ago.  For you data geeks, explore here.
Texas has an active craft brewing scene, with at least 200 microbreweries.  There are quite a few in our area.  For example, Lewisville is home to Cobra Brewing Company, located at 146 Whatley Avenue, just off Mill Street south of Main.  They're open to the public on Friday (5-10 p.m.) and Saturday (noon-7).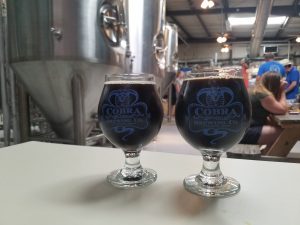 Once inside, walk through a short hallway and into their taproom, which is … right in the middle of the brewery.  They have about 10 beers on tap, with a good balance of pales and darks.  You can buy by the glass or get a flight (a sampling of four 4-oz. glasses).
Another good option (Saturdays only) is to buy a take-home glass etched with the cool Cobra logo and three tokens, each redeemable for a beer, all for $10.  If you're not up for three beers on one visit, you can save a token or two for future visits.  If you bring your glass on future Saturday visits, you can get three tokens for $8.
The atmosphere at Cobra is very relaxed, with a classic rock soundtrack.  There is ample seating at picnic tables, barrel tables, barstools, and even a sofa and swivel recliners setup in front of a TV.  You can also play pool or foosball.  For those interested in the brewing process, they conduct free tours of the brewery during weekend tasting hours.  If you're hungry, there's usually a food truck onsite on Saturdays.
And of course, they have some really tasty beers.  Perhaps the signature beer is Dawn of the Dank, an imperial IPA with nine hop varieties that combine to produce a fruity, resinous (and yes, dank) taste that masks the potent 11.7% ABV.  We also liked All Eyez on Me, a coconut-infused imperial stout, and Spring Kleaning, a strong ale (9.75% ABV) that tasted of whiskey, cocoa nibs, coffee, and hints of vanilla, caramel, and cola.  Stop by Cobra one weekend and try a few for yourself.
You can contact me at [email protected].