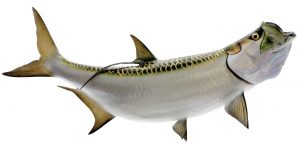 Our tour of the BVI's continues as we continue to be amazed at the scenery and greenery surrounding us.  I couldn't possibly describe the colors of the waters or the jade, olive and emerald of the mountain sides.  I also couldn't remember all the islands we saw but I didn't have to…Corinne had them all memorized.
The guys decided they wanted to try their hand at deep sea fishing so Captain Collin headed out to sea so they could troll for dinner.  Corinne promised she'd cook anything the men caught.  Unfortunately, one of the fishing lines hung up in the prop of a passing boat.  It was actually pretty far off but nonetheless, close enough to become the catch of the day…or so we thought.  Corinne grabbed a knife and quickly cut the line only to have it wrap itself around a buoy on its way back to the boat's after end.  The sea began to get a little rough with some sizeable swells, so our fishing expedition was cut short.
Later that evening we caught a water taxi (envision a pretty beat up sorta box, made of what appeared to be tin with hard bench seats and a few poles to hang onto).  I would think the life of one of these drivers would be terribly boring, just shuffling people short distances back and forth between docks.  Oddly enough, they were always smiling and sometimes acted as a tour guide.  This ride was to the lowest parcel of land on Scrub Island.  We hiked up to the top, on a slightly overgrown path.  It was a good little distance.  There on the top end was a bar and a singing one man band.  Dancing was encouraged and I was floored (see what I did there?) when my husband asked me to dance!  Everyone in our party joined in on the fun and even formed a conga line.  We almost lost Julie, though, when she caught the toe of her flip flop in a crack in the floor.  Down she went but you just can't keep a good woman down especially with the aid of painkillers!
(Before I forget, which happens more often than not these days, I have changed the names of the people in our group, save me and my husband.  This way I can tell all without offending anyone).
Virgin Gorda has lots to do and plenty of shops surrounding the Bitter End Yacht Club.  I held my breath as we strolled past several shirt shops.  Trying to get my husband to turn his head in the other direction was fruitless…yep, four more shirts.
That evening we water taxied over to the dock where the "tarpon feeding" began at 5 p.m. sharp.  We had seen these critters gather behind our yacht at dark, attracted by the boat's running lights but mostly by hundreds of what I'll call minnows.  Here they put on quite a show while having a feeding frenzy.  To me, being the avid angler I am (not) tarpon resemble small sharks but with sweeter smiles.  They have one of those dorsal fins and are silver in color.  This feeding event we attended was surreal.  A native comedian dude would taunt the fish by swinging discarded fish skin above their heads. (This skin and other parts of the fish were donated by the nearby restaurants).  He'd dangle the skin about four feet above the water and the tarpon would leap up and grab it.  That was all well and good until he wrapped some of the skin around his arm up to his elbow inviting "mini" jaws to a tasting.  He even convinced a teenage girl to follow his lead…trust me when I say it would have taken me at least three blenders of painkillers to follow that act!  I found out later that, tarpons do have villiform (i.e., fine densely packed) teeth on their jaws and other areas of their mouths.  Evidently, if you know what you're doing, these teeth will render no harm to a human hand or arm.  However, I did Google this and found several examples of abrasions left by tenacious tarpons.
Something a little more serene was the land taxi tour of Virgin Gorda.  We had lunch at Hog Heaven, renown for its heavenly BBQ.  No trip to the BVIs would be complete without a stop to The Baths.  These are enormous boulders which form pools and grottos across white sandy beaches.  Coral reefs and caves are a result of their unique placements, compliments of Mother Nature.  I wandered around the formations a little too long because although weaving my way down the path was a bit tricky, climbing my way up was quite a challenge.  (Worth every huff and puff, though).
Only two more days and yet so much more to see and do.  Next month I'll tell you how you can pack a week's worth of fun into a very short period of time.