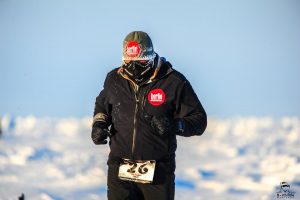 All it took for Jay Koger to find an out-of-this-world experience was a hard-landing at the North Pole in an old Russian airplane.
Then he ran 26.2 miles on ice.
It was minus 41-degrees.
Koger is a 50-year-old vice president of a packaging company from Copper Canyon with a heart for adventure. He took up long-distance running around age 35 and celebrated his 40th birthday by swimming a mile-and-a-half from Alcatraz Island to San Francisco.
Recently, on a business trip by air, Koger opened a Men's Fitness magazine that had been left in the seat pocket in front of his airplane seat and read about the "World's Most Extreme Adventure Races," And, one of them especially stood out to him — the North Pole Marathon, which costs a cool $14,500, according to the magazine story.
"I figured few [people have] ever been to the North Pole, and much fewer have ever run a marathon there," said Kroger, who has run about 10 marathons.
So, to celebrate his 50th birthday in April, Koger — who insists he's "not a physical specimen," but a "normal-sized guy" — embarked on a series of flights to reach Svalbard, the Norwegian archipelago between Norway and the North Pole. From there, he and 55 other runners from 21 countries were put on an old Russian airplane, "because it could handle a short runway."
Some of the seats had seat belts; some didn't, Koger said. About two-and-a-half hours later, they had a "really hard landing" on the polar ice cap.
"You step off and it's like being on the moon," Koger said. "Like a different world."
The runners arrived at Ice Camp Barneo, a private temporary Russian camp on an ice floe near the North Pole.
The marathon, unlike any race he'd ever run before, began about 10 p.m., because the sun never sets at the North Pole at that time of year.
"It was bitterly cold," said Koger, who trained for the race by running on trails around Lewisville Lake.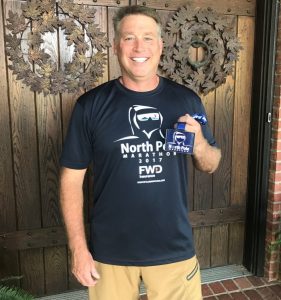 The temperature hovered around minus 40-degrees. Runners had to change clothes several times during the run, because they froze solid from perspiration. Koger said he drank and ate much less than he usually does, "you don't want to stop, because you'll freeze."
They trudged across barren ice and snow, sometimes falling through the ice into a one- or two-foot hole. The race course was a 2-mile oval, which sounds simple enough, but visibility was low and the ice conditions were constantly changing.
"You'd think you found a good, solid path, but by the next lap it was totally different," Koger said.
The poor conditions wreaked havoc on the runners' times. Kroger finished the race in 8 hours, 42 minutes; much slower than his typical marathon time, but was still near the middle of the pack.
First place was Piotr Suchenia from Poland, who finished in 4 hours, 6 minutes.
Later on in the day, Koger said the race organizers cut a hole in the ice and let them take an ice plunge, a quick jump into the frosty Arctic Ocean below the polar ice cap. Some claim these cold water immersions, similar to cryotherapy, have health benefits; and, Koger said that after this experience, he understands.
"It's the first time I've never been sore after a marathon," Koger said.
The race map was located about 10 miles away from True North, the magnetic north pole. The next day, organizers took the runners for a tour via helicopter, including a stop at True North.
"It was amazing to walk around and look at my watch and see that I had walked around the entire world in 10 seconds," Koger said.
It was an adventure of a lifetime, Koger said, but it wasn't perfect. All the runners suffered at least some mild frostbite from the race, he wasn't able to communicate with his family and the sleeping conditions were, well, "terrible."
"The sun never went down and that really does make it feel like it is always daytime," he said. "And they had tents set up in groups of four, with an oscillating heater in the middle, so the temperature kept going from 30-degrees to 80-degrees and back to 30."
Koger got about two hours of sleep, he thinks.
Looking back at the adventure, though, Koger remembers it with excitement and amazement. He's going to "give my family a break" from worrying about his extreme hobby, but eventually he hopes to find himself on a new marathon track.
"Maybe a desert," he said.