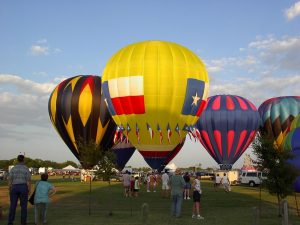 It's been two years since the sky over Highland Village was filled with the awe-inspiring sight of brilliant-colored hot air balloons.
"Last year was the only year that weather closed down the whole event," said Barbara Fleming, longtime Highland Village Lions Club member. "We've had an afternoon, or even a day, that has been either delayed or postponed by bad weather in the past, but last year's rain forced us to cancel the whole event."
As much as that event-cancellation was disappointing for the general public, it was incredibly difficult for the HV Lions Club members.
The Balloon Festival is the major fundraiser for the club; which, in turn, affects the mission of the HV Lions Club: "Helping detect vision and hearing problems in local preschool children to ensure they can 'see a brighter tomorrow.'" This year marks the fifth year the HV Lions Club has conducted screenings.
Proceeds raised through the success of the HV Lions Club Balloon Festival have enabled the members to purchase state-of-the-art vision and hearing equipment to detect early-warning signs of vision and hearing impairment. In addition, the club also supports local Boy and Girl Scout programs, as well as the McAuliffe Chile Cook-Off, parades and festivals in Lewisville and Flower Mound, Unity in Communities, HV Art Festival, back-to-school programs, plus the Eyeglass Recycling Center.
"Our motto is: "We want everyone to see a better tomorrow,'" said Fleming. "We have a unique club, in that our principle service project is detecting vision and hearing problems in local preschool children. We do our screening at children's day care facilities around Flower Mound, Highland Village, Lewisville and surrounding cities. Since 2011, we have performed more than 22,000 screenings."
In 2016, the club screened 5,200 children.
The 30th Annual Highland Village Balloon Festival– on August 18-20, in Unity Park at 2200 Briarhill Blvd.– will feature fun for the whole family– the Kids' Zone; food court; live music; a Saturday car show; arts/crafts booths; and, of course, the iconic Hot Air Balloons. There is no entry fee to the festival. (A $5 donation is requested for parking). Free vision screening will be offered each day of the festival. The Friday evening Opening Ceremony will include U.S. Rep. Michael Burgess and Texas Sen. Jane Nelson of Flower Mound.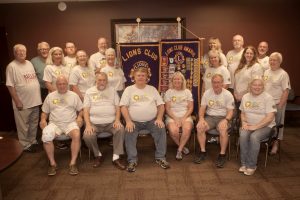 The first Lions Club Balloon Festival and Fair in 1987 was a one-day event with 25-craft booths and two balloon flights. With the help of the North Texas Ballooning Association, there were eighteen balloons involved and approximately 2,000 people attended the event.
The following year, the City Council dedicated 3.1-acre parkland at 500 Highland Village Road as the Bruce Lockhart Lions Club Park. This May, the Parks Department placed a plaque at the park, with its history. In addition, the club started a program to honor deceased Lions members with individual small plaques: Pat Falcon; Ken Ashmore; Pat LaCasio; Gene Pike; and, Bruce and Marjorie Lockhart.
As the festival grew larger, additional features were incorporated, including: two simultaneous balloon glows; on-stage entertainment; food and drink vending; covered and lighted tents for arts and crafters; and, a carnival were added to the festival at its previous Copperas Branch Park location on the shores of Lewisville Lake.
Today, it has grown to be one of the largest events in Denton County, with upward of 25,000 people attending.
"One of our highlights will be presenting the winners of the annual poster contest on Saturday [Aug. 19] at 6:30 p.m., with Highland Village Mayor Charlotte Wilcox," said Fleming, the 2017 chairperson for the contest. "There were more than 530 entries from the three Highland Village elementary schools and the middle school. The theme for the poster this year was, 'See Us Soar, Hear Us Roar.' Each of the winners will be presented with a T-shirt featuring that child's poster design; a great remembrance to have."
The HV Lions Club is always open for new members. It meets on the first and third Saturdays of each month, at 9 a.m., at the Duvall Center at 948 Highland Village Road.
"We are welcoming people on our vision and hearing team," said Fleming. "We will have a training class at the beginning of the school year with state certified trainers; if I can pass, then anyone can."
A complete event schedule is available at: lionsballoonfest.com/schedule-of-events/.
The Denton County Transportation Authority (DCTA) will provide complimentary shuttle service for the Balloon Festival. DCTA shuttles will operate from 4:30 p.m. to 10:30 p.m. on both Friday, August 18, and Saturday, August 19. One bus will shuttle passengers from the Highland Village/Lewisville Lake Station to Briarhill Middle School every 20 minutes and another bus will shuttle passengers from Marcus High School to Briarhill Middle School every 10 minutes. DCTA will not operate shuttle service on Sunday, August 20.