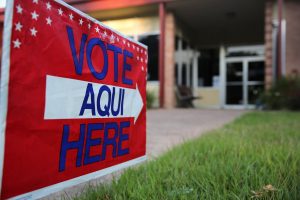 This summer, the Denton ISD Board of School Trustees voted unanimously to call a Tax Ratification Election to keep local tax dollars for public education local and increase funds the district receives from the state, yet retain the the same tax rate, according to a district news release
The TRE will not increase the current tax ad valorem rate of $1.54. Voters are being asked to increase the maintenance and operations portion by two cents, while the Board of School Trustees have approved decreasing the debt service portion of the tax rate by two cents, the news release said.
District officials have calculated that the swap would allow Denton ISD to receive more funds from the state and keep a larger share of taxes paid currently by local property owners – approximately $7.9 million combined – working to support local students and teachers in the district.
"Our Trustees have a proven track record of being fiscally prudent through an extended period of growth, while paying down debt to the benefit of our local taxpayers. This is just another form of being responsible with those tax dollars by keeping our money in Denton and the areas we serve," said Dr. Jamie Wilson, superintendent of schools, in a prepared statement.
Should voters approve the TRE, Denton ISD would gain additional funds by setting the maintenance and operations tax at $1.06 and lowering the debt service tax to 48 cents. This swap would keep the current tax rate of $1.54 per $100 in assessed property values, where it has remained unchanged since 2014, the same.
Denton ISD would gain flexibility in the maintenance and operations tax, which funds day-to-day expenses like utilities, campus supplies and teacher salaries, as it continues to grow. The district has seen an increase in student enrollment for six consecutive years and according to demographic projections is expected to surpass an enrollment of 30,000 students this fall.
"We want to provide the most support possible for our teachers as we continue to grow in numbers while remaining within the state's parameters of an unstable finance system for public schools in Texas," said Board President Mia Price. "This is simply the right thing to do for our students, teachers and community."
The TRE is set for Saturday, Sept. 9, with voting times of 7 a.m. to 7 p.m. The early voting period is set to begin Wednesday, Aug. 23 at the times listed below:
August 23 – 25, Wednesday – Friday, 8 a.m. – 5 p.m.
August 28 – 31, Monday – Thursday, 8 a.m. – 5 p.m.
September 1 – 2, Friday – Saturday, 7 a.m. – 7 p.m.
September 5, Tuesday, 7 a.m. – 7 p.m.
Polling places will include:
Denton Civic Center (early voting only), 321 East McKinney St., Denton
Denton County Elections Administration Building, 701 Kimberly Drive, Suite A101, Denton
Braswell High School, 26750 East University Drive, Aubrey
Harpool Middle School, 9601 Stacee Lane, Lantana
Denia Recreation Center, 1001 Parvin St., Denton
Stephens Central Administration Building (Election Day only), 1307 N. Locust St., Denton