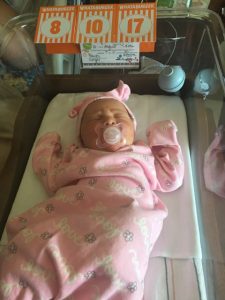 Matthew Kroft was just messing around on social media while he held his newborn baby daughter on Thursday at Texas Health Presbyterian Hospital in Flower Mound.
His wife, Jennifer, was recovering after giving birth to their second daughter, Bethany Grace, and Matthew was "resisting the urge to post photos on Facebook."
"I'd let my wife do that," he said.
Then he saw a tweet by Whataburger that said, "If you're reading this, I care about you a lot and want you to bring me Whataburger."
Matthew replied to the tweet with a photo of his new daughter and wrote that they were in the hospital "with this cutie," and jokingly asked if Whataburger could bring it to them instead?
He quickly forgot about the tweet, never expecting to get a response. But to his and Jennifer's delight, a few hours later he got a message from Whataburger saying the fast food chain wanted to make it happen, and what would they like and when would they like it?
Matthew said he and his wife were extremely grateful because they are "hardcore Whataburger fans," and "in this age of the internet, nothing really surprises us."
Jose Vasquez, a manager at the Whataburger location in Highland Village, brought a free lunch for Matthew, Jennifer and Matthew's parents the next day. He also brought three of those little number tents that made up Bethany's birthdate: 8, 10, 17.
"We're all doing really well," Matthew Kroft said. "We're very blessed to live in a great town like Flower Mound. This is just the cherry on top."