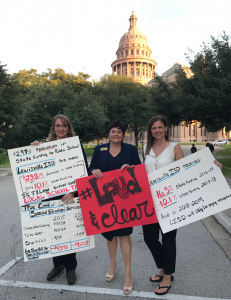 Three Lewisville ISD Board of Trustees members joined a rally Tuesday in Austin for Texas school districts.
LISD Board Vice President Kronda Thimesch, Place 2 Trisha Sheffield and Place 6 Kristi Hassett attended a grassroots advocacy Tuesday outside the State Capitol during the special legislative session. Trustees who attended the event, which was created by school board trustees from North Texas, represented 55 school districts with a goal of creating "accountability and transparency of issues affecting our students," Thimesch said.
Specific issues they rallied support for included that the state fund public education 50 percent, local control instead of state control, and no vouchers.
In the last session, the 85th regular, the legislature cut nearly $3 billion in foundation school program state aid for school districts for the next two school years, Sheffield said. It shifts that $2.97 billion to higher school property taxes.
"The $2.97 billion, instead, benefits the state budget," Sheffield said. "It also benefits charter schools, with 6 percent of students, to whom the Legislature gave an additional $1.4 billion for the upcoming biennium."
The trustees carried signs that conveyed the significant decrease in funding LISD will receive. One sign showed that last school year, the district received 16.3 percent of state funding and will get only 10.1 percent in the upcoming year.
"What happens in Austin affects all of our students, teachers and community," Thimesch said. "School board trustees want to be engaged and actively involved in the process. We do not plan to make this our last trip to Austin during this special session."
The Texas House on Friday tentatively approved 130-12 House Bill 21, reported the Austin American Statesman, which would pump $1.8 billion into the public school system.
HB 21, which died in the regular session, would increase the per-student basic allotment to $5,350 from $5,140.