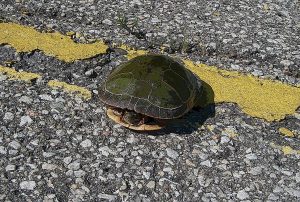 Turtle activity "is higher than ever" between April and October in Flower Mound, and the town gave some tips this week about how to help reduce vehicles striking turtles on roadways.
In late summer and early fall, hatchlings begin to dig out and search for water, and turtles young and old are often observed crossing roadways, according to a Facebook post by Flower Mound Animal Services.
Here are some tips to "help reduce vehicle-related turtle mortality:"
• If you move a turtle off the road, move it to the side in which it is heading
• Allow turtles to cross the road without assistance if traffic allows. Slow down and maneuver your vehicle around the turtle
• Avoid excessive handling. If you must pick up a turtle, grasp either side of shell behind the front legs. Keep the turtle low to the ground, so the chance of injury is minimal if they wriggle free.
• Never pick up a turtle by the tail, and be wary of snapping turtles, which have been known to demonstrate aggression if threatened.
• Check around your vehicle for hiding turtles. Some species of turtles will end up in parking lots, get confused, and seek shade under parked vehicles.
If traffic or sight limitations are keeping you from safely assisting a turtle in the roadway, call Flower Mound Animal Services at 972-874-6390, or Flower Mound Police Department's non-emergency line at 972-539-0525.