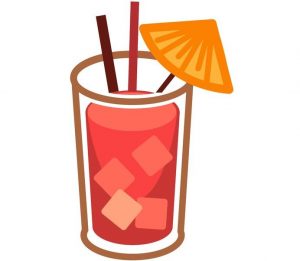 Last month I left off with the three of us ladies bedazzled in bling each suited to our needs, make that desires. We felt our time in the jewelry stores of St. Thomas was definitely well spent even if the guys were of a different persuasion.
After all that shopping we did in Charlotte Amalie, we'd worked up quite a thirst despite the store owners' efforts to satiate us as best they could. We found, in a somewhat hidden little mall, an outside oasis called the Palm Passage Bar. The bartender was also an entertainer, in that he put me in mind of Tom Cruise in the movie Cocktail. He may not have been quite that good but after a few pick-me-ups he appeared to be a true pro. One favorite drink of the islands was a potion known as a Pain Killer. It consisted of many parts of dark rum (depending on which recipe was used) cream of coconut, OJ and pineapple juice…absolutely delicious and very dangerous. The bar keep whipped up several of these for our group and a few other concoctions of his own.
I was drinking water and soda but still, what goes in must come out and there was no obvious restroom attached to the bar. You had to go out of the mall and then some distance down a very narrow alley. Here, a large woman, with dollar bills spilling out of one of her chubby hands, sat on a stool too small for her generous girth. It cost one dollar to use the lavatory. I hadn't brought any money with me and this was not a 'go now, pay later facility.' So I wandered back to the bar and bummed a buck off one of my travel pals. Since they had consumed several Pain Killers they were all more than generous with a donation.
By the time I got back to the potty place I really didn't need any delays. Once inside, I have to admit they were sparkling clean but the large lady was a little pushy as to how long you could occupy the space. I was washing my hands when she came to investigate. She said, with a charming accent "I was juice cummin' to check oop on you."
The group took a good little stroll 'down by the boardwalk down by the sea'…sounds like a lyric for a song. From here, there was a terrific view of the various shades of blue the water created by the ocean's depths.
The next morning we headed out to Compass Point Marina located in Red Hook, St. Thomas.  This is where we met our charter boat. Again we had an "extraordinary" taxi ride down serpentine one-way roads. As if the captain and crew anticipated we might be a bit frazzled after the journey, they had hollowed out fresh coconuts filled with Pain Killers. A straw peaked out from behind the garnish of a bright red hibiscus. What a way to start that day! After a concise safety briefing we were on our way. We moored at St. John and my husband did a very brave thing. He kayaked (for the first time in his life) with Julie, who is a bit fearless when it comes to any physical activity. They were always in sight of the boat so not to worry. The rest of us were content to go "mat running." This was a challenge to stay upright while running from one end to the other of a 20 foot long floating rubber mat without paying a visit to the sea. Here again, Pain Killers enhanced the event.
Just for your edification, there are over 50 British Virgin Islands and only 15 are inhabited. And of those there are probably a half dozen that are favorites of the tourists. We visited 9 in total.
Our means of transportation was aboard a 53 foot catamaran sailboat. She had 4 staterooms (bedrooms) and 4 heads (bathrooms). The crew, consisting of Captain Collin and First Mate Corinne, did all the work and provided most all of the meals. The couple hailed from South Africa and had the coolest accents ever! Julie did complain a couple of times that she couldn't understand Collin when he spoke too fast. He was patient with her and would repeat until she got it!
Corinne was a master at handling the lines when we docked or hung out on a mooring ball. Then she'd head for the galley (kitchen) and prepare a gourmet meal, presented on a table setting that had a unique theme. This was all done with cloth napkins, table cloths, placemats, crystal wine glasses and no such thing as paper plates. We had 7 breakfasts, 6 lunches and 5 dinner experiences like this. Corinne put Martha Stewart to shame! And she managed all this on a boat whose name was Aliwee! (Pronounced Ah' lee way).
Meanwhile, Captain Collin would BBQ from time to time when he wasn't plotting out our next island stop and activities that might be offered by the local resorts. Wherever we docked, his status seemed to allow us full use of all that resort's conveniences. He also turned out to be quite the bartender and had his own version of a Pain Killer.
At the west end of Tortola we cleared BVI Customs, a most embarrassing occurrence since everyone got to at least glimpse at my passport. This is, without a doubt, the ugliest photo I have ever taken! Makes my driver's license picture look like a glamour shot!
We dinghy over to visit the caves at Norman Island reputed to be the inspiration for the pirate novel, Treasure Island. While we didn't see any pirates, we did stop at The Bight Bar and its adjoining restaurant. It rained while we were ashore so some things got a little soggy on the ship. Not realizing how much rain had accumulated, Mark plopped down in a bean bag chair and made quite a splash! Wouldn't have been so funny if he'd had his swim trunks on, but he didn't.
Our sail next day was to St Peter Island Resort. There were plenty of shops beckoning for Ken to come in to buy T shirts. After leaving there he was up to a count of 10 with more islands and more shops just waiting to set the hook.
Arriving at Scrub Island Marina for an overnight dockage we were free to use all amenities. This included the heated spa, and both the lower swim up (to the bar) pool and the larger pool above which had an enormous water slide. Ed (one of our group) took a pretty good spill after trying to navigate some slippery areas surrounding the pools…this was while balancing a couple of island drinks…guess which kind they were. Fortunately, the only injuries incurred were a few little scrapes and his pride. "Julie the Fearless" and our first mate, Corinne, took on the water trampoline located down below in the Cay. This honey was HUGE and had no netting and required no spotters. If you fell off, you were at the mercy of the ocean.
Next month, more island hopping, Pain Killers and some fun places we toured.
Read Cindy's column each month in The Cross Timbers Gazette.