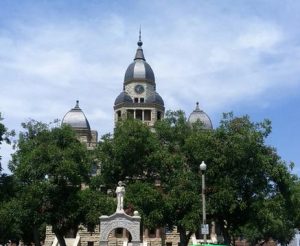 Residents can learn about the history of the North Texas Fair and Rodeo at a lecture next week at the Denton County Courthouse-on-the-Square.
The Denton County Office of History and Culture is presenting the lecture on Aug. 2 at 6 p.m. Three speakers — Nanci Kimmey, Georgia Caraway and Mickey McNary — "have deep roots with the North Texas Fair and Rodeo and Denton County history," the news release said.
The lecture is based on the bestselling book, "History of the North Texas Fair and Rodeo," which was co-authored by Caraway and Kimmey.
The history of the North Texas Fair and Rodeo spans more than 125 years, and the fair is one of the largest fairs and rodeos in Texas with more than 175,000 attendees.
Afterwards, attendants can view an exhibit highlighting the influential people, traditions and culture of the North Texas Fair and Rodeo.
All exhibits and lectures are free and open to the public.  The courthouse has handicapped parking and accessibility through the north entrance. The lecture will be in the Commissioners Courtroom in the Denton County Courthouse-on-the-Square, located at 110 West Hickory Street.
The lecture precedes this year's fair, which will run from Aug. 18-26 at the North Texas Fair grounds, 2217 North Carroll Blvd. in Denton. The 89th annual North Texas Fair and Rodeo is bringing back the Swifty Swine pig races for the first time in 25 years.
NTFR will kick off with a performance by the Josh Abbott Band, other country music performances throughout the event include: Travis Tritt, La Energia Norteña, Jake Hooker & the Outsiders, Austin Allsup, Sam Riggs, Cody Johnson, Ryan Bingham, and Tracy Byrd.
The event is focused on providing great family fun, according to a news release.
"We continue to support youth, agriculture and community," said Glenn Carlton, Executive Director of the NTFR, in a prepared statement. "We strive every year to make this event better than the year before, we want to bring you fun for the whole family."
Click here for more information about the Fair and Rodeo.