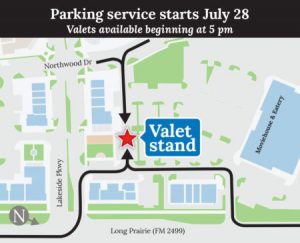 The Shops at Lakeside is adding free weekend valet parkers, beginning this week.
The service will be offered beginning at 5  p.m. on Fridays and Saturdays. The valet stand will be located on the north side of the music plaza, close to Mio Nonno Trattoria.
"With the growing popularity of our shops and restaurants in addition to the release of some popular summer movies at Moviehouse & Eatery," said Jimmy Archie, managing partner of Realty Capital, master developer of Lakeside DFW, "the need for valet service became apparent.
"We think the valet service will make visiting The Shops more convenient and ultimately provide for a better experience for our customers," Archie said in a prepared statement.
The service will be free of charge and available to any patrons of The Shops, including concert attendees, restaurant customers, movie-goers, or any other visitors to the project.
Lone Star Valet has been signed on to provide the service for the project. Lone Star provides valet service at other major projects such as The Shops at Legacy, West Village, and The Star in Frisco.
Signage will be strategically placed throughout project to direct drivers to the valet stand.