You can watch the progress of the construction of the new Flower Mound Town Hall from the comfort of your own home.
Citizens can click here to go to a town webpage for access to an on-site camera, which snaps a photo of the fenced-off work site every 10 minutes, every day until the project is complete, according to a town Facebook post.
Town Council approved the project, which has a maximum cost of $15,740,744, in early June. The town broke ground on the new town hall, which is on the same piece of property as the current one, in late June.
Mayor Tom Hayden said the town hall has been "a long time coming" but "at last it's happening."
"Spending money for facilities is never popular, especially as a government," Hayden said. "But this will be a real positive for the town."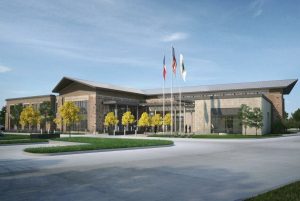 Because of the construction, access to the current Town Hall will be limited to the Cross Timbers Road entrance, as the contractor has closed the Morriss Road entrance for about the next 15 months, according to the town. There will also be no parking on the west side of Town Hall.
Click here for more information about the project.